ROYAL GARDEN RESTORED TO CULTURAL ICON
14 Mar 2019
Undergoing a €15.1M restoration, a former royal garden Chihilsitoon Garden in Afghanistan has been restored to its previous glory, opening as public recreation space with a host of distinct programmes.
In ruins for nearly three decades, due to damage and looting that occurred during the internecine conflict of the early '90s, the Aga Khan Trust for Culture (AKTC) has breathed new life and purpose into Chihilsitoon Garden. Beginning in early 2015, restoration of the garden was completed in 2018.
This historic cultural destination was formerly a 19th century royal garden, transformed into a state property housing visiting dignitaries in the early 20th century – most notably US President Dwight D Eisenhower and Soviet Premier Nikita Khrushchev.
Now restored to its former glory, Chihilsitoon Garden marks the largest rehabilitation project carried out to date by the Aga Khan Trust for Culture, which has completed over 140 restoration and landscaping projects across Afghanistan since 2002.
Spanning an area of nearly 31 acres, the Chihilsitoon Garden plan included the creation of a variety of spaces with distinct purposes, linked by a network of formal paths and trails. Sitting at the core is a historical formal axial garden, surrounded by informal patches of dense landscapes and open greenspace interspersed with activity areas such as picnic spaces, an outdoor amphitheatre and a historic formal promenade that includes the original marble fountains, once again fully functional.
In addition to planting more than 5000 new trees, saplings were provided for maintaining the stock of trees and plants within the garden and a commercial horticulture nursery was constructed in order to generate additional revenue towards the upkeep of the site.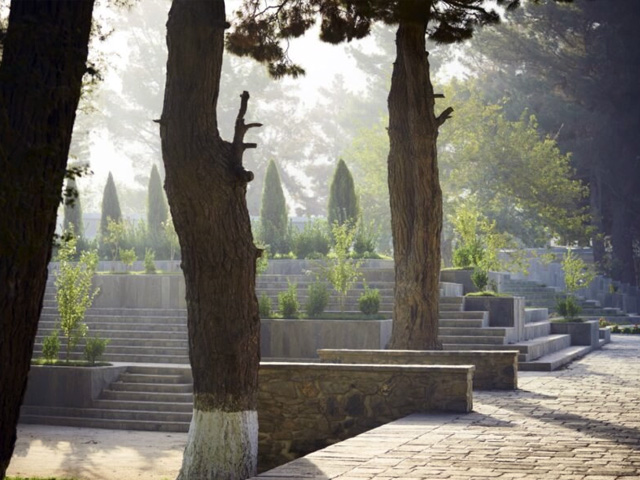 New buildings in the garden include an exhibition hall, 300 seat auditorium, visitor management and administrative facilities, and a multi-purpose facility within the reconstructed historic palace, increasing the site's capacity to host multi-purpose events.
Though used for sporting activities for some time, additional buildings have created a revived recreational and sports zone that includes cricket batting areas, volleyball fields and two mini-football pitches, as well as an indoor facility with changing rooms and showers. The contemporary buildings take inspiration from traditional designs and typologies, including the use of rammed earth as an earthquake-resistant structural material.
"Found to have been used in parts of Afghanistan as far back as the 2nd century AD, rammed earth structures are highly suitable to the climatic and ecological environment in the region," explained a project statement.
"Due to the workability of rammed earth, a range of architectural designs was explored for the various facilities. Reinforced with bamboo trees, steel rebar and concrete frame structures, buildings constructed with rammed earth were designed to withstand moderate earthquakes."
The newly formed independent Kabul Historic Gardens Trust will manage the garden.
Images Simon Norfolk via Inhabitat
SEARCH
SUBSCRIBE TO ENEWS
MORE NEWS
INTEGRATING AGEING AUSTRALIANS INTO COMMUNITIES
WINNING TEAMS TO DESIGN RUSSIAN CITY
NEW PUBLIC SQUARE FOR SYDNEY'S CENTRAL STATION
CONSTRUCTION TO BEGIN ON MANHATTAN BEACH
MORE FUNDS FOR PUBLIC SPACES.
NOMINATIONS FOR 2021 AWARDS OF EXCELLENCE