PUBLIC ART EMERGES FROM THE YARRA
10 Aug 2017
A new Mirvac development in the Docklands precinct in Melbourne has been completed with a public artwork that rises from the Yarra to punctuate the space with its illuminated presence.
Home to Melbourne's latest piece of public art, the Yarra's Edge now features a 50-metre sculptural artwork by Melbourne artist Tracy Sarroff. Sitting at the foot of Mirvac's latest development within the Docklands precinct, the piece rises from the Yarra and consists of 16 buoyant crystalline shards made from opaque acrylic that ebb and flow with the tide, and change colour as pedestrians transit the immediate area.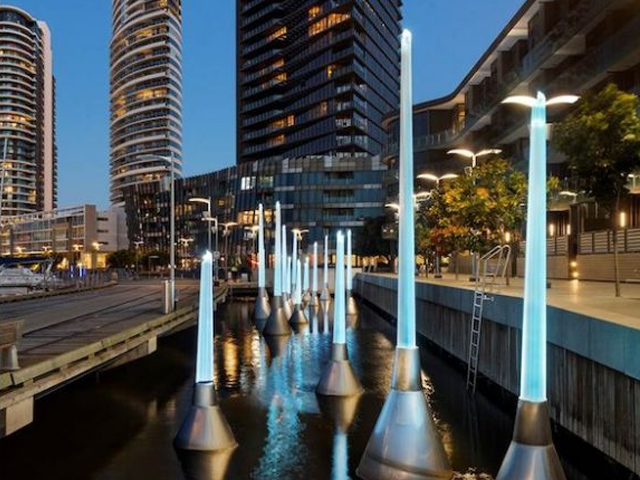 The shards, which rise up to six metres, are inspired by bioluminescence. According to Mirvac, Light Buoys will pulse softly when pedestrians are not around to activate it, imitating the breathing and resting of a living organism. The piece also stands as a reference to the heritage of the riverbank setting, with Tracy Sarroff arranging the formation to mimic the reeds that are native to the Yarra and once lined its banks all the way to Birrarung Marr.
"Light Buoys takes inspiration from science fact and science fiction, transforming what were once reeds and the West Melbourne Swamp, the work melds that natural past with a potential future," says artist Tracy Sarroff.
Light Buoys is attached to a flexible flotation structure under the waterline, avoiding any damage to the riverbed. The process of assembly spanned two weeks and was overseen by structural engineer Peter Felicetti, better known for his work at Hobart's MONA Museum.
Located at the foot of the Array residential tower, Light Buoys adds to the ground level stimulation of the area.
The Wharf Club was recently completed and includes amenities such as a pool, fitness centre and café that are available to both residents and the wider community. Adjoining The Wharf Club is a 2,000sqm green open space known as Wharf's Landing, further activating the precinct's waterfront.
As further stages of Yarra's Edge are delivered, the precinct as a whole has evolved from its early purely apartment tower-driven outcome to now include greater public benefits and a mixture of housing typologies. The balance of Yarra's Edge is expected to follow suit, although Mirvac has also released for sale Voyager which shapes as Yarra's Edge's tallest apartment tower.
"Mirvac is excited to deliver this unique and enriching artwork to the community at Yarra's Edge as part of our commitment to reimagining urban life. Light Buoys takes into account the design intent for the urban character of the Yarra's Edge precinct and embraces the urban and riverfront nature of the precinct," says Elysa Anderson, General Manager of Residential Victoria, Mirvac.
SEARCH
SUBSCRIBE TO ENEWS
MORE NEWS
SIT AND REFLECT
FOLDED SKIES
TOWERS BRING COLOUR TO COACHELLA
A CORNUCOPIA OF PLASTIC WASTE
A HELPING HAND
WINTER INSTALLATIONS BREAK THE ICE