PRECAST CONCRETE COMPLETES DARLING HARBOUR
29 Jun 2017
Design Landscapes was excited to be a part of the Darling Harbour Live redevelopment, contributing extensive landscape works and successfully integrating precast concrete elements to the revitalised Sydney site.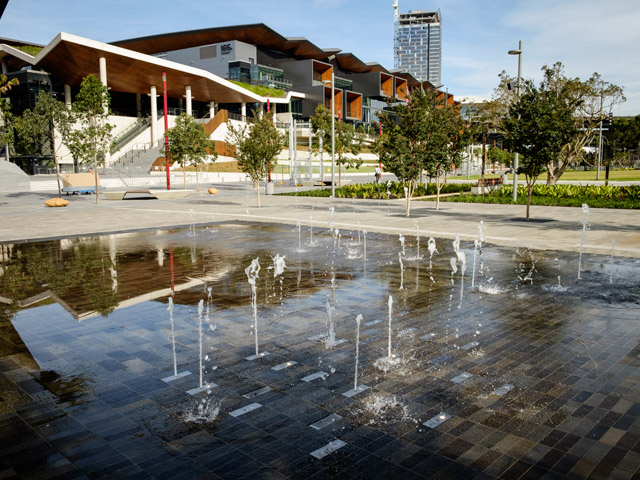 Completed in December 2016, Design landscapes (DL) undertook landscape works extending from Harbourside in the North of the site to the Chinese Gardens in the south. Additional works in Tumbalong Park were also completed, contributing to the additional 3000sqm of greenspace in the precinct.
With close to 30 years of experience in design and construction, taking on a large-scale commercial project of this size is nothing new for the team at DL. Skilled contractors in everything from green walls and stormwater harvesting, to water features and public domain landscapes, the scope of work undertaken to fulfil the project objectives of this job fell well within the capabilities of Design Landscapes.
Works undertaken for the Darling Harbour redevelopment include:
Design and construction of sloping green roof on the ICC building
Design and construction of three new water features (carried out by DL's inhouse hydraulics team)
Revamp of the historic Woodward fountain pump room
Paving works, concrete, and stabilised decomposed granite
Design and construction of timber decks
Design and construction of irrigation works
Soft landscape works
Supply and installation of handrails, balustrades and corten panels to ICC building exterior
Design and installation of precast concrete furniture package
Extensive architectural precast package
Expanding on their extensive experience in designing and installing quality landscape infrastructure ventures, the Darling Harbour precinct project was an opportunity for Design Landscapes to further expand their capabilities to the supply and install of high-quality architectural and public domain precast concrete elements.
As a result of the works undertaken for the Darling Harbour project, Design Landscapes is now providing a specialised supply and install service for precast concrete ranging from both architectural precast to high-quality precast furniture and urban elements.
Precast elements installed in the Darling Harbour precinct include:
Step treads
Balustrade panels
RL12 balcony slab caps
Tangram seats (4 different unit sizes)
Woodward fountain seats and bleachers
Teen water play bleachers
To discuss how Design Landscapes can help you to shape your next public domain project call 02 9958 9400 or visit their website.
SEARCH
SUBSCRIBE TO ENEWS
MORE NEWS
LANDSCAPES GOOD ENOUGH TO EAT
UP, UP AND AWAY
KILLA DESIGN FOR FUTURISTIC MUSEUM
ELEPHANT WORLD CULTURAL COURTYARD
OXFORD STREET'S CREATIVE TRANSFORMATION
BUILDING SUSTAINABLE, OPEN CITIES