PLAY IN THE SKY
24 Sep 2020
Skytower Hotel – Brisbane's tallest building – now includes a brand-new Kids Club Childcare centre on the fifth floor, which features a fun vehicle-themed outdoor playspace painstakingly put together by Logan Landscapes. Check out the results.
Kids Club Early Childhood Learning Centres ensure that all children and families receive the best quality care and education. Each centre features well-crafted spaces that nurture children's growth and development.
Kids Club's newest centre opened in March 2020 on the fifth floor of Brisbane's iconic Skytower Hotel. The external landscaping works were done by Logan Landscapes.
The external playspace has a range of fun and exciting features, including a mock Rolls Royce, a bike track, a sandpit, nautical-inspired play pieces, a garden and more.
The project required five carpenters and two bricklayers. All equipment was constructed in situ by Logan Landscapes, except for the Rolls Royce, which was supplied by the client. The 'service station' canopy was built near the car to hide air-conditioning ducts to keep the space cool.
As the playspace was on the fifth floor – with 110 floors above that – all materials were lifted from Margaret Street by cranes.
Hidden beneath the perfectly designed landscape is an extensive subsurface drainage system to keep the space safe and flood-free in any weather. Covering the space is a metal roof that protects from falling waste, which can be a common occurrence from revelling hotel-goers.
This is Logan Landscapes fourth project for Kids Club and, as such, the team knew exactly how to meet the client's expectations.
The new Kids Club at Skytower has been a great success and the kids love the fun, interactive playspace.
Since 1979, Logan Landscapes has been delivering quality residential and commercial projects throughout Southeast Queensland. All clients liaise directly with the Company Principal, Ross Logan, a professional landscaper with over 30 years of experience.
Logan Landscapes prides itself on having highly trained, competent staff who deliver great results on each and every job.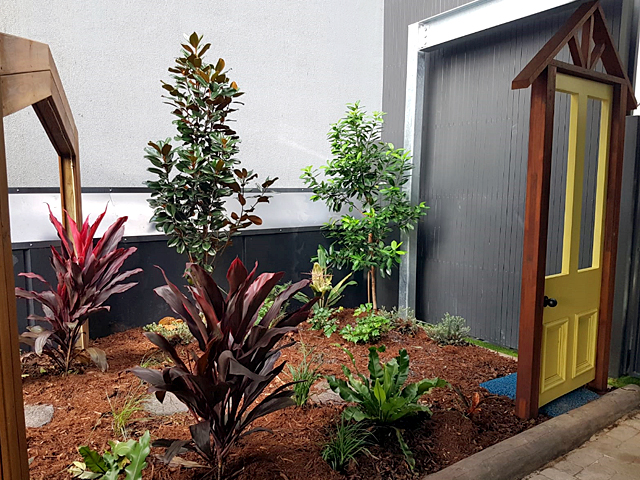 Contact Logan Landscapes via the links below to specify the team for your next landscape project.
SEARCH
SUBSCRIBE TO ENEWS
MORE NEWS
WETPOUR RUBBER FLOORING AT WINTON WETLANDS
BOAT-THEMED PLAYGROUND BY THE RIVER
RICHTER PLAYSPACE ARRIVES IN TASMANIA
PLAY AND FITNESS EQUIPMENT YOU CAN TRUST
NATURAL TIMBER PLAY STRUCTURES
NATIVE PLAY