PET-FRIENDLY DESIGN
29 Jun 2017
Proving themselves a friend to man's best friend, Urban Fountains & Furniture has recently fabricated a new one-of-a-kind watering station for canines that is a hit with travelling pet lovers.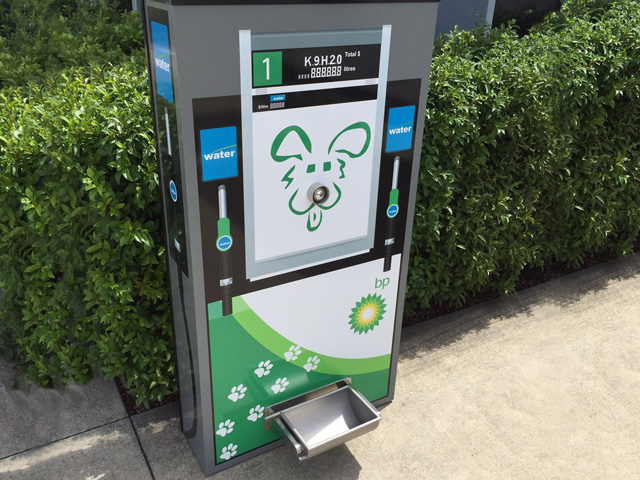 Urban Fountains and Furniture were approached by BP Australia to custom make a one-a-kind, BP Branded 'Pet Watering Pump' for their Service Centre in Caboolture - located on the north side of Brisbane, Queensland.
The BP Travel Centre facility is host to many long distance drivers and families who take their pets on the road with them, and this watering station offers fresh drinking water for their lovable pooches.
From an initial hand drawing to finished design, Urban liaised closely with project advisors at BP Australia to ensure that their criterion for a unique pet watering pump was met. The watering station has a strong and durable internal frame and fixtures that effectively produce fresh water for the canine users. And, in keeping with the theme of the location, the team at Urban used BP logos and branding to create a bowser-like effect on the outer layer of the watering station to complete the unique design.
With the press of a button, the Pet Watering Pump will fill the bowl and offer fresh drinking water for their patron's 'pawsome pooches'.
To find out how Urban Fountains & Furniture can help you with your next custom fabrication project visit their website.
SEARCH
SUBSCRIBE TO ENEWS
MORE NEWS
PET-FRIENDLY FOUNTAINS
URBAN+ NOW IN THE WEST
THE POWER OF A DRINKING FOUNTAIN
FROM FIRE TO FOUNTAIN
URBAN+ | THE DRINKING FOUNTAIN SPECIALIST
SCHOOLS DRINKING DIFFERENTLY