PARTICIPATE IN PARKS WEEK
16 Dec 2015
Parks & Leisure Australia and the New Zealand Recreation Association are planning to support the benefits of public green spaces through Parks Week | 5 - 13 March 2016.
Parks play a vital role in creating liveable cities and thriving communities. They are our most frequented spaces for recreational activities and provide opportunities for tourism and the social interaction that is vital for connected and resilient communities.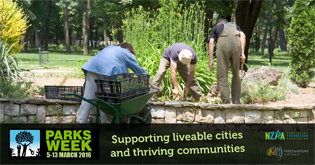 That's why Parks and Leisure Australia (PLA) and the New Zealand Recreation Association (NZRA) have teamed up to help councils, organisations and communities on both sides of the Tasman present Parks Week from 5 – 13 March 2016.
PLA and NZRA invite you to join the campaign as a Parks Week Partner. The extended 'week' takes in two weekends, and aims to get people out of their living rooms and into our parks with a series of events to raise awareness of the value of parks and open spaces.
If you're a Council, organisation or community and are planning something in your local park, let us know so we can support you and help spread the word. A dedicated website has been created to present and promote your Parks Week events. For more information visit www.parks-week.org
You will find useful resources on the website in the RESCOURCES section, and participants can easily publicise their activities using the EVENTS tab.
SEARCH
SUBSCRIBE TO ENEWS
MORE NEWS
GET YOUR AUTUMN EDITION OF THE PLA JOURNAL NOW
SETTING MELBOURNE ON FIRE
PLA NATIONAL CONFERENCE GOES VIRTUAL
HOT OFF THE PRESSES, THE SPRING EDITION OF PLA JOURNAL IS OUT NOW
TRANSFORM DESIGN WORKFLOWS WITH VECTORWORKS® LANDMARK
PLA CONFERENCE GOES VIRTUAL