PARIS OLYMPIC AQUATIC CENTRE MAKES A GREEN SPLASH
18 Jun 2020
MVRDV has proposed a vertical park and 'green lung' for the Paris 2024 Olympic Games aquatic centre that will blend into the surrounding landscape and prioritises the needs of the area instead of creating something that is 'trendy and iconic' in order to create connections and enhance the community.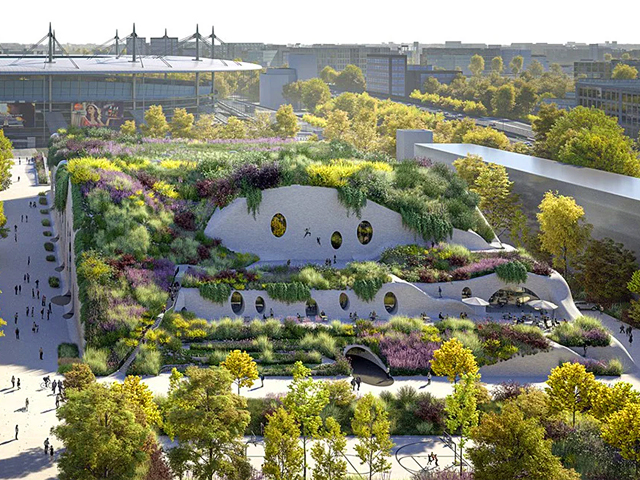 MVRDV's proposal stands out from the others by aiming to solve the problems that the area already faces, instead of adding to it, which include a lack of pedestrian connection, greenspace and neighbourhood amenities. Instead of trying to compete with the stadium for attention, the aquatic centre is a simple rectangle with spaces for recreation arranged around the central space that features the Olympic swimming and diving pools and offers seating for up to 6000 people.
The recreation spaces include an indoor climbing area, fitness and meditation zones, a splash pad for children, coworking spaces, and a restaurant.
The modest design is prevalent in the exterior surfaces including the façade, roof and paving, which feature light-coloured, low-carbon concrete with gently curving edges to give the impression of a draping sheet.
An explosion of greenery sits on the roof as the building's signature feature. small grasses and shrubs cover the centre of the roof while larger plants of up to two-metres-tall will be placed to the roof's edge. The roof slopes at the edges to reveal this green landscape to pedestrians, with hanging plants adding to the impression of a diverse natural landscape.
The green roof provides significant benefits to the area, acting as a 'green lung' that helps to improve air quality and lower temperatures. The roof cannot be accessed by visitors, making it the perfect space of animal and plant biodiversity.
Inside the building, large windows and skylights stream natural light onto the pools, reducing energy consumption. As an additional sustainable feature, MVRDV partnered with Engie to ensure that 80 percent of the building's energy would come from sustainable sources.
Could this be the winning design for the Paris Olympics aquatic centre?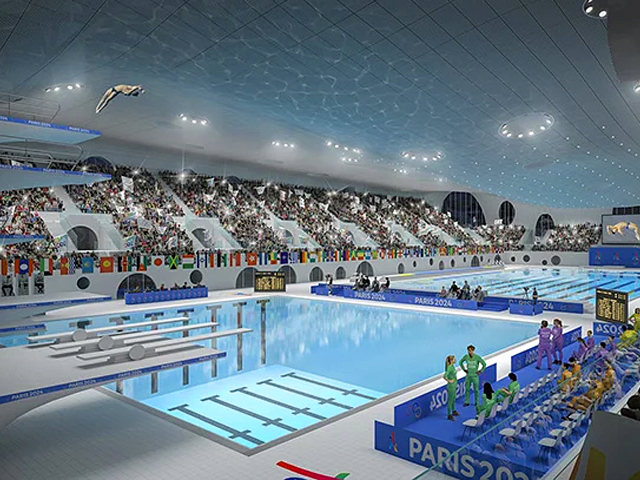 Images by Engram Studio, courtesy of MVRDV
SEARCH
SUBSCRIBE TO ENEWS
MORE NEWS
LANDSCAPES GOOD ENOUGH TO EAT
TREEHOUSE SCHOOL FOR POST-COVID LEARNING
ELEPHANT WORLD CULTURAL COURTYARD
BUILDING SUSTAINABLE, OPEN CITIES
PERTH WELCOMES NEW $695M UNIVERSITY CAMPUS
UPPER AUSTRALIA