NEW YORK'S EUROPEAN VILLAGE
29 Jun 2016
New York's newest housing development will encompass two full city blocks and host a series of interconnected landscaped courtyards that join the 'streets' of the European-styled neighbourhood.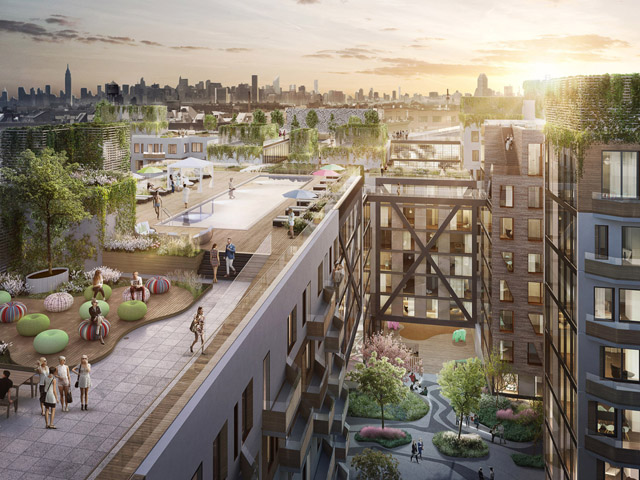 Brooklyn's Bushwick neighbourhood is set to receive a vast housing development designed as a "European village" by architecture firm ODA New York. Encompassing 92, 900 sqm of apartment units, the Rheingold Project will take up two full city blocks on the site of the former Rheingold Brewery.
"Over the pair of New York city blocks that encompass its footprint, ODA's superimposed something more like – and, in fact, inspired by – the quintessential European village," said a statement from the studio.
The development is planned around a series of interconnected courtyards that break from the area's strict street grid. Coffee shops, art galleries, lounges, study spaces, and fitness and recreational areas will line these landscaped spaces and plazas.
The buildings vary in height between six and nine storeys across their lengths. They present brick facades to the street, with diagonal elements crossing square windows, while glazed walls and balconies face the courtyards. Rooftop facilities will include an urban farm where tenants can grow and harvest fresh produce on site.
Located east of trendy Williamsburg, Bushwick is currently home to a largely young creative community. But the area is experiencing rapid gentrification as professionals and middle-class families are priced out of other parts of Brooklyn, but still require the transport links to Manhattan. ODA referred to the development, which includes 20 percent affordable housing, as "Bushwick II".
"The project is truly a city within a city," said ODA founder Eran Chen, "a culture in and of itself, and a project that we hope will continue to challenge all the expected sacrifices of urban life."
SEARCH
SUBSCRIBE TO ENEWS
MORE NEWS
PERTH WELCOMES NEW $695M UNIVERSITY CAMPUS
UPPER AUSTRALIA
ELEPHANT WORLD CULTURAL COURTYARD
LANDSCAPES GOOD ENOUGH TO EAT
TIMBER CAR CHARGING STATIONS CREATE REST
TREEHOUSE SCHOOL FOR POST-COVID LEARNING