METAL ART MAKES A STATEMENT
15 Jul 2015
Custom designs and a range of metal finishes means Tombo Design can provide you with a unique solution to your metal artwork needs.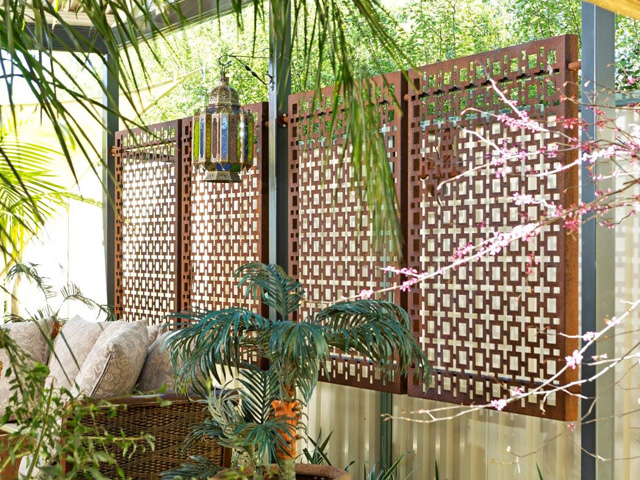 Made in Melbourne utilising state of the art water-jet and plasma cutting machines, Tombo Design creates beautiful metal wall art for a variety of outdoor uses. Add an original touch with decorative panels, privacy screens, wall hangings or an individual landscaping piece, and turn your outdoor space from ordinary into extraordinary.
Machine technology allows Tombo Design to craft intricate designs that offer an extensive range of visual effects. Metal processes such as oxidising, to provide that 'rusted' effect, zinc-plating or powder coating, are used to enhance your screens or decorative panels to the desired finish.
Created to withstand the elements, these pieces are suitable to be set out in front gardens, backyards or parks.
Tombo Design's in-house designer works with the latest software to offer customers a wide range of designs to choose from. Customers can choose a design from the company's database or work with the designer to create a one-off custom design. If you want to take your metal masterpiece to the next level, Tombo Design also offers a range of LED lighting with variable colour and sequence selections.
Working closely with your landscape designer if needed, Tombo Design can offer both supply and install services – whatever you need! They believe in personalised customer service and won't rest until you are satisfied that you've received the best product value.
To see the full range of services offered by Tombo Design visit www.tombodesign.com.au
SEARCH
SUBSCRIBE TO ENEWS
MORE NEWS
MELDING THE OLD AND THE NEW
THE FORGOTTEN LANDSCAPING & FENCING PROFILE
WPC FENCING SOLUTIONS
INTRODUCING ULTRALOX, AUSTRALIA'S MOST INNOVATIVE BALUSTRADE SYSTEM
5 HERITAGE FENCING IDEAS
PILLAR FENCES CREATED WITH GREAT CARE