MASTERPLAN OFFERS HEALTHY ENVIRONMENT
16 Nov 2016
Creating green space by repurposing underutilised areas of the city centre is at the heart of a new masterplan for Amsterdam, creating a healthier environment with parks, food markets and urban farms.
A large, circular new masterplan for the Amsterdam city centre repurposes many of the existing buildings within the inner ring of the city into green, pedestrian-friendly spaces. Architecture firm Hofman Dujardin designed the project in order to decentralise the area and repurpose routes currently used solely by cars. Parks, food markets, smart transportation and urban farms would reinvigorate the heart of the city and create a healthy environment for its inhabitants.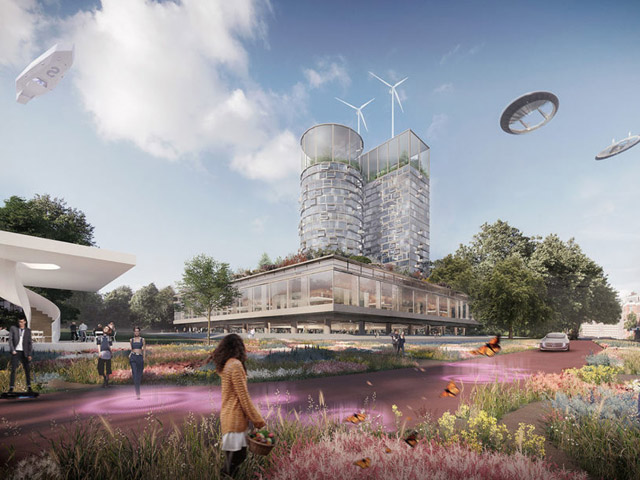 The project offers a solution to some of the issues plaguing the city centre which is crowded with tourists, suffers from dense traffic and high rents. The innovative plan connects the northern district to the rest of the city and creates a circular path through the city, thus restoring Amsterdam's historic connection to the water and opening up the waterfront.
A natural park would be introduced to areas along the road and canals, while a new food market would occupy the place of the current parking lot. Urban farming spaces would be housed in a former bank building, and various sports facilities would line the new ring and the waterfront. This ambitious plan envisions a future where the city would have airships, interactive features, holograms, silent floating cars and delivery drones.
SEARCH
SUBSCRIBE TO ENEWS
MORE NEWS
TAKING PLAY TO NEW HEIGHTS
SAFETY SURFACING MADE EXCITING
PLAY IN EVERY SENSE OF THE WORD
WATERPLAY TAKEN TO NEW HEIGHTS
HIGHRISE FUN WITH RHINOPLAY
APPLE CRATE INSPIRED PLAY TOWER