MAKING WASTE WORK
14 Feb 2019
The Mindil bin housing from botton + gardiner is a durable, low-maintenance unit that includes a variety of features in contemporary colours to complement any public space.
The perennial stayer of their portfolio, botton + gardiner's (b+g) Mindil Bin Housing is an enduring classic ideally suited to streetscapes, council parks, universities, shopping centre entries and public spaces.
The Mindil easily coordinates with a number of b+g picnic settings, seats, planters, bollards and bike racks to make it simple to specify beautiful and considered combinations for any outdoor space.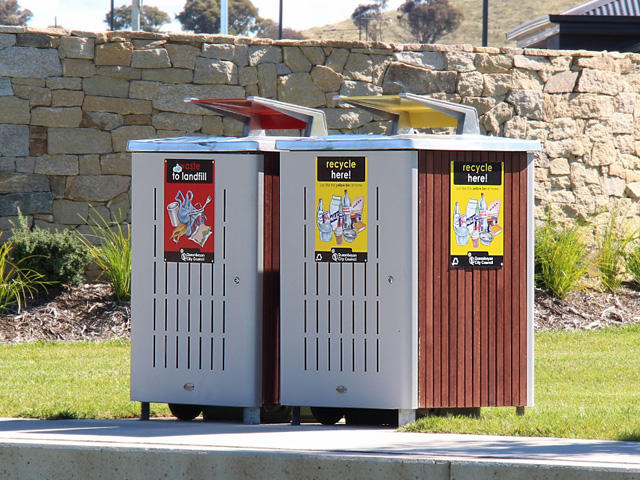 Designed with public spaces in mind, the Mindil includes high-quality features that deliver durable long-term performance and simple maintenance, including vandal resistance. The corrosion-resistant heavy-duty cast-aluminium lid is easy to clean and will take the brunt of Australia's harsh weather conditions.
Leave the bin top open or go with the optional vaulted or skillion hoods to prevent birds from scavenging and limit waste deposit size.
Previously a very traditional styled bin, some of the latest Mindils have gone out with a fun and contemporary twist thanks to a mix of bold powdercoat colours, DuraSlat® side panels or the acutely angled skillion hood.image
Across the b+g range, the body panel perforation designs available have been updated to provide flexibility and youthful appeal.
Be sure to check out b+g's vast collection of streetscape and urban furniture and fixtures. Or, if you're after something more bespoke, botton + gardiner can work with you to develop its products in exciting ways with the support of an inhouse design team and Australian manufacturing practices.
Use perforated panels to display your logo or create custom signage to work with your branding, are just some of the ways you can develop a unique bin unit and give your landscape a distinct identity.
Visit the botton + gardiner website to find out more about Mindil range and your bespoke options.
SEARCH
SUBSCRIBE TO ENEWS
MORE NEWS
THE POWER OF PUBLIC AMENITIES
THE START OF SOMETHING NEW
PREHISTORIC MEETS CONTEMPORARY
HIGHRISE SCHOOL GETS A-GRADE TREATMENT
'WOOD WITHOUT WORRY' MAKES FURNITURE EASY
PHILLIP ISLAND GETS ALL-ACCESS AMENITIES