LIGHTING UP MAFEKING SQUARE
15 Nov 2017
When Alpine Shire Council wanted to improve Mafeking Square, they called upon the expertise of Draffin Street Furniture to produce a suite of furniture that ensured the character of the project yet gave it the zing it needed.
Bright's custom lightbox bench seating
As part of Alpine Shire Council's Alpine Better Places project, an initiative to improve and beautify Mafeking Square in Bright, Victoria, was undertaken in 2017. Draffin Street Furniture was a key supplier to the beautification project, contributing a series of custom street furniture pieces that met the design brief of the project.
THE BRIGHT VISION
Maintain the scale, layering and intimacy of the Alpine Village character
Improve pedestrian circulation around Mafeking Square and maintain its centre ceremonially significant heart of Bright
Recognise Bright as a termination point of the Rail Trail, with the provision of improved cycling facilities and connections throughout the city
Enhance the unique identity of Bright with highlight 'gateway elements' and a high quality, consistent palette of urban materials
For over a century the town square and clock tower have been recognised as a memorial, offering a ceremonial and reflective space that can be enjoyed as a gathering and resting place by the local community and visitors alike. Alpine Shire Council (ASC) has honoured the wishes expressed by the Shire President in 1917 to "eventually make the square a picture and ornament to the town, and at the same time pay a tribute of respect to the departed heroes" - with some 21st Century touches.
Mafeking Square clock tower at night
Draffin Street Furniture was commissioned to produce lightbox seating, picnic furniture and bike racks. Their design team worked closely with ASC's landscape architecture team to ensure the designs met Council's vision.
With over 60 years of operational experience, Draffin Street Furniture has developed and streamlined a set of processes for custom projects that ensures a successful outcome every time. The Bright project was no exception. As specialists in custom design, the team at Draffin strongly believe that the best outcomes are achieved by working side-by-side with their customers.
Draffin bike racks in action
INTERPRET THE DESIGN
After reviewing the site design with ASC's landscape architects, Draffin was able to fully understand the design intent and offer suggestions from a technical point of view that would improve strength, increase durability and decrease the cost without compromising the visual or functional goals of the design.
For example, the original concept called for treated pine framing, however, Draffin advised this would not be as durable as a fin and rail framing system, which would increase the strength of the bench and ensure accuracy.
DIGITAL PROTOTYPE AND SHOP DRAWINGS
3D Cad Software was used to take the concept and produce a working model. Once complete these were sent to the ASC landscape architects to review. This process enabled us to work with ASC to identify any changes to the designs and ensure that the finished result was exactly what was required. Finally, 2D shop drawings are produced by Draffin's designer and issued to the client for final review.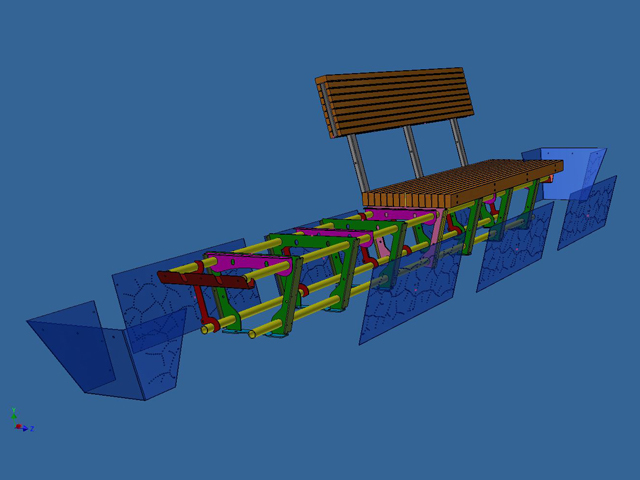 The lightbox benches worked well with existing Draffin Street Furniture bin surrounds
PRODUCTION
Once the final designs were approved by ASC, production commenced at Draffin Street Furniture's comprehensive manufacturing facility in Bayswater. Every process and component was completed inhouse by their highly skilled tradesman, ensuring the highest quality standards were met every step of the way.
DELIVERY
Draffin Street Furniture understands that every project they complete is part of a bigger picture, so they work closely with their clients to coordinate timeframes and logistics of the overall project. The dispatch team will liaise with customers, or third parties as directed, to ensure a safe and timely delivery to site.
To discuss custom concepts for your urban designs, Draffin's friendly design team are always happy to assist in developing concept briefs and turning them into a finished product.
To find out more about custom services from Draffin Street Furniture contact them using the links below.
SEARCH
SUBSCRIBE TO ENEWS
MORE NEWS
EXELOO CREATES COMMUNITY PRIDE
MAKING INACTIVE COMMUNITIES ACTIVE
NO-BOUNDARIES RESTROOM LETS YOU PEE IN THE FOREST
CONNECTABLE STREET FURNITURE
BESPOKE STRUCTURES HELP PARK SHINE
LEISURE SPACE FOR REFUGEES