KEEPING PLAYSCAPES COVERED
05 Jul 2018
Looking for durable and attractive shading for your next public space project? With over 30 years of manufacturing experience, Shadeform's latest project with Marion Council demonstrates their capacity to provide ideal fit-for-purpose shading solutions.
Marion Council's jurisdiction covers a large area to the south of Adelaide, with a growing population spread over a number of popular suburbs. Council prides itself on the provision of quality outdoor spaces, reserves, parks and playspaces. Young families are increasingly spending more and more time outdoors and Marion Council is keen to promote healthy outdoor living for local residents. To ensure the safe use of playspaces throughout the year, a targeted programme of the provision of shade structures for existing parks and some newly developed spaces has been implemented.
Shadeform have been enlisted by Council to supply and install numerous shade structures over the years and were recently awarded the contract to supply and install a number of shade structures at an additional five parks in the 2017-2018 financial year. The scope was set out by Council's landscape division to comply with their requirements, as well as the Australian Standards for shade provision. Shadeform were engaged to finalise the design process, obtain engineering and necessary approvals, and then undertake fabrication of steelwork, construction of footings and the manufacture and installation of shade sails.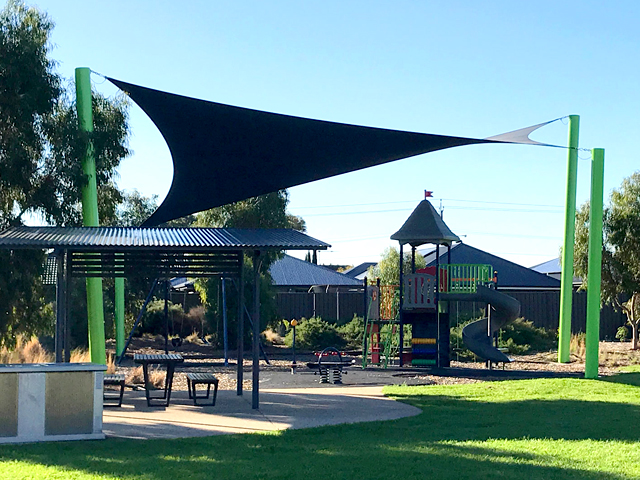 Each individual playspace had its own particular nuances, requiring a considered approach for the design and delivery of each shade structure. At Roy Lander Reserve, site conditions required the construction of substantial pad footings in order to support the shade sail columns, requiring nearly 50cm of reinforced concrete.
Glade Crescent Reserve at Hallet Cove featured a sloping site, created to accommodate two surface mounted slides. The shade sail design utilised this slope, providing maximum shade coverage across the slides, which are constructed from stainless steel and can heat up significantly during warmer months.
Ground conditions at Reserve Street, Trott Park were extremely rocky, requiring the deployment of the largest rock breaking drill in the state!
On completion, each playspace now benefits from an eye-catching shade structure, which adds to the user experience of parks in the Marion area. Each shade structure provides benefits from both a practical aspect, where the deployment of shade is crucial to the safe use of such spaces, and from a visual point of view where the design of each shade structure adds to the aesthetic appeal of these vibrant and welcoming community spaces.
Shadeform have over 30 years of experience in designing, manufacturing and installing shade sails, and have been at the heart of the industry right from its inception. With a background in sailing and sail-making from childhood, the Shadeform directors have a wealth of experience in the manufacture of sails. You cannot buy or import experience, you have to be there – and that is what sets Shadeform apart from the competition.
Commercial shade sails are engineer-designed to suit the application. Shade design is a very specialist area with a limitless array of structural formats. By using the latest FEA software, Shadeform's engineers are able to accurately calculate the tensile loadings, deign posts, footings and support structure to suit.
Shade sails can be manufactured using a wide range of fabrics, depending on the individual requirement. Commercial grade shadecloth provides a durable yet economical solution, with up to 98 percent UV protection.
Becoming increasingly popular is the extra heavy-duty Monotec 370 Shadecloth. This Australian made monofilament shade fabric is available in a wide range of vibrant colours and has an excellent 15-year warranty. Shadeform use only the best fittings available on the market with Grade 316 stainless steel edge wires, D rings and galvanised heavy-duty chains generally used on large, commercial shadecloth sails.
Following an accurate survey of the support columns or connection points, each shade sail is designed, patterned and plotted using the latest 3D design software. Once cut out, the sail panels are either machine sewn or high frequency welded together, depending on the type of fabric used. Corner patches are then added in triple layers, a unique process developed throughout Shadeform's existence. The sails are then hand finished with the addition of stainless steel edge wires and fittings. The corner reinforcing, combined with the use of the industry leading durable sewing thread and the highest quality stainless steel edge wires and fittings, ensures that Shadeform's sails are the strongest available on the market.
Design is critical to the lifespan of a shade sail, which comes with experience in this specialist area. If designed correctly, a shade sail will provide years of trouble-free shading, with minimal maintenance required.
Contact Shadeform today via the links below for advice on your next shading project.
SEARCH
SUBSCRIBE TO ENEWS
MORE NEWS
THE RIGHT AMOUNT OF SHADE
A NEW REASON TO CAST SHADE