IRRIGATION FOR HARD TO REACH SITES
12 Nov 2014
Toro makes automated irrigation on median strips and roundabouts easy with the DC Pro.
The Toro DC Pro is a small, yet powerful battery controller that offers the convenience and flexibility of a wireless control system. Complete with single station controller, solenoid valve and DC latching coil, the DC Pro is designed for automating irrigation on sites that don't have mains power. This makes it ideal for municipalities wanting to automate watering on roundabouts, median strips and in car parks, where trenching across hardscapes is not possible.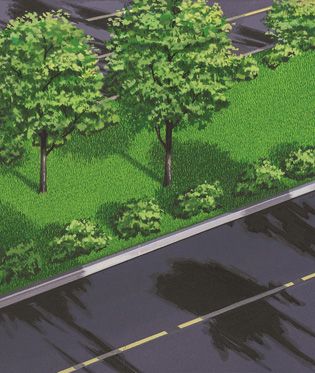 Simple to use, the DC Pro has an intuitive icon-driven display and is fully waterproof up to 2m. This makes it ideal for mounting inside a valve box.
One 9 volt battery will power the DC Pro for an entire irrigation season. The DC Pro offers the flexibility and programming options to suit a variety of applications and watering schedules. Its ability to be retrofitted with existing valves and solenoid coils provides flexibility for contractors to seamlessly add the DC Pro to existing installations. The non-volatile memory retains programming in the event of battery failure or short circuit, whilst the controller will automatically prevent watering when the battery life is low.
The DC Pro's Runtime Extension feature offers flexibility to adjust watering schedules with the touch of a button. "Sometimes you need to water for longer, I like that I can just operate the controller manually and extend the watering time when plants need it. Once the manual run is complete the automatic irrigation will resume as per usual," says Brett Robinson of Adelaide-based landscape construction company, Outside Ideas.
"The battery controller is also easy to retrofit to most DC-latching solenoids and is compatible with Toro and other branded rain sensors. That's great for contractors like me who work at different sites, where different brand products are used."
The Toro DC pro comes complete with Toro EZP valve and DC latching coil and is available from Toro dealers nationally.
Visit www.toro.com.au for more information.
SEARCH
SUBSCRIBE TO ENEWS
MORE NEWS
RAINGARDEN RESERVE STAYS GREEN
JUST ADD WATER
NAVIGATING THE CHANGING LANDSCAPE
THE LEADER OF IRRIGATION
THE SMART WATER CHOICE
DESIGN TEAM EXPANSION AT SMART WATER