JUDY BATES - LNA PRESIDENT
09 Nov 2016
ODS gets to know Judy Bates, newly appointed President of the Master Landscapers Association. We explore her background in horticulture and ask what her plans are for her tenure as President.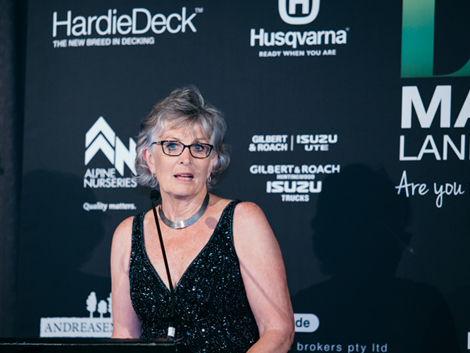 LNA Masters Landscapers Association was formed in 1979 with an aim to raise the public perception of the Landscape Industry via increased quality in landscape construction works. LNA was instrumental in the development of the first, and the subsequent tailored and now nationally recognised, landscape specific trade and diploma courses, and is enmeshed in governmental dialogue to further career paths for young industry professionals.
The LNA realise the importance and significance of supporting businesses, and the benefits to contractors of membership with the Landscape Association to further develop and grow the broader industry.
ODS gets to know Judy Bates, newly appointed President of the Master Landscapers Association.
Tell us a little about your background.
My whole working life has been in the horticulture industry in one form or another. My industry background is amenity horticulture, having started in the nursery industry as an Apprentice Nurseryman at Swanes Nursery in Dural. This was the perfect training ground for a teaching career, and I have been teaching at TAFENSW since the mid-1970s.
I have extensive knowledge of the education industry. My teaching career began at Ryde School of Horticulture before I became Senior Head Teacher for distance education for 20 years. I then moved back to Ryde School of Horticulture as Head Teacher of Landscape Construction and Irrigation.
I have been an active member of the LNA Board since 2009 in the Training and Development portfolio.
What do you feel you will be bringing to the role of LNA President?
Collectively, the members of the LNA Board have an extensive range of experience across the construction and horticulture industries. They are business owners and managers and know the workings of the industry and what members expect from their industry association. The composition of the Board for this year has not changed substantially from the previous year, therefore the workings will not be vastly different.
However, I will bring a different type of leadership; clear and strong communication, good management skills, knowledge of the wider horticulture industry, broad knowledge of education at a vocational level, and the ability to liaise with government agencies. This will assist in the continued development of the projects that are currently in place and ensure continued growth of the LNA as the Master Landscapers Association.
What do you hope to achieve as President during your term? What Legacy do you wish to leave?
While being an LNA Board member, I have developed a deep understanding of the key challenges faced by LNA and other industry associations. I believe that I have played a role in assisting LNA to develop and implement strategies to overcome these challenges and meet the desired outcomes of continued growth and development.
I am very lucky to have come into this role at this time when LNA is a strong, successful and very professional industry association, and my legacy will be to ensure this continues.
My legacy could be many things! Given that my professional background is education at a vocational level, I would have to say a CPD (continued professional development) program that is accepted and embraced by our membership. Public acceptance of using a licenced Landscape Professional, rather than the cheapest quote, that would be a great outcome, and we are certainly working towards achieving that particular goal.
What is your view of the future of the Landscape industry?
The Landscape industry is so strong and positive that I only see that it can only go from strength to strength. LNA members will carry the industry into the future with new and innovative designs, construction techniques, plant selections, and ability to use the new materials that are coming into the market.
It is an exciting time to be in the industry and to witness the rapid growth along with the increased professionalism of members of our industry. I am excited about the future and what it holds.
In what is traditionally a male-dominated industry, how do you feel the role of women in landscaping is changing?
Women have always been in the landscaping industry, but usually in roles other than working on the tools. The landscape construction industry is heavy duty when it comes to the actual construction, so the number of women here is quite small.
However, there are plenty of women in other roles in our industry and this number is increasing as opportunities in the industry expand. There are women who are incredible designers, those who project manager construction jobs and the contractors who build them, and those with business management skills, which are essential if a business is to be successful.
I don't think that the role of women is changing; I think that women in this industry are being more widely recognised. LNA is actively showcasing Women in Landscaping and there are amazing women out there who are the unsung heroes of many businesses.
SEARCH
SUBSCRIBE TO ENEWS
MORE INTERVIEWS
PLANNING AHEAD: A CAUTIONARY TALE
CULTURAL CONCERNS IN THE LANDSCAPE
TOTAL ENVIRONMENTAL CONCEPTS
PROLUDIC CELEBRATES
REVIEWING URBAN DESIGN
A LANDMARK LANDSCAPE