HENRY STEED - LANDSCAPE ARCHITECT
17 Jul 2018
Meet the man behind some of Singapore's most iconic streetscapes - landscape architect Henry Steed.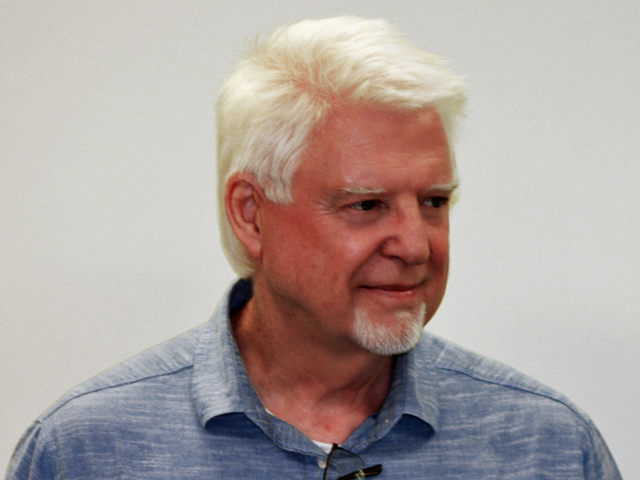 Ahead of his appearance as a keynote speaker at this year's IFLA World Congress 2018, ODS had a chat with Singapore-based Australian landscape architect Henry Steed - the man behind some of Singapore's most iconic landscapes.
Tell us a little about your background.
I am a Chartered Landscape Architect from the UK but have spent the last 36 years in Singapore. I am Design Director of ICN Design International in Singapore, and my experience extends through tropical, arid and temperate zones, in urban, rural and natural environments in Asia, Middle East, Australia and Europe. Throughout my career, I have designed every kind of landscape, from nature trails to hotels and housing gardens, parks, campuses, zoos, streetscapes, airports, hospitals and highrise city-centres.
I am a keen naturalist and photographer and have written and illustrated a book, Greening the Vertical Garden City, which deals with the techniques to design and install landscapes at every level in a highrise tropical city.
What are the trends you are seeing today in the creation of public greenspace that are being applied globally?
There is an ever greater emphasis on the outdoor public environment being a combination of experiential and activity space, as well as urban art on a large scale. Planting has also become more integral to the art-forms of pavement, seating, water, lighting and artworks themselves.
It seems that the most noticed designers of the last 30 years (working for enlightened clients), plus the styles so visible in international exhibitions, garden festivals and trade fairs, have finally caught the imagination of those commissioning new works all over the world. This has resulted in waves of three-dimensional exotic places and spaces. China, in particular, has exploded with a new wave of exciting spaces, done by both local and foreign designers.
The inclusion of universal design has also redefined accessibility, and the art of effective circulation planning and traffic management has ensured a higher degree of seamlessness and connectivity with the surrounding spaces, streets and buildings.
All in all, it would appear that we should expect ever more imaginative designs in the future, as designs for "total environments" become commonplace and identity becomes expressed in urban art.
What do you see happening in Singapore that could be useful to the creation of public greenspace in Australia?
It seems that influences can go both ways between a city-state like Singapore and a large country like Australia. There are so many different climates in Australia that the conditions we design for in Singapore would only apply in the tropical regions. However, it may be said that some observed Australian designs are open and unshaded, perhaps celebrating the often sunny and dry weather.
The creation of shaded zones is very valuable, especially where people will gather and sit out of doors. To us, there can never be too many trees. So finding a balance in the design between open space and pedestrian connections and well-planted spaces and pathways is a worthwhile consideration.
There are plenty of good examples of shaded parks and public spaces in Australia, but perhaps the cooling and ventilation of public spaces could be addressed more. Designers in Singapore certainly visit Australia to get inspiration from Australian designs, and it can be hoped Australian designers can visit Singapore and also be inspired and learn about working in a 12-month-a-year hot season.
Ethiopian Baboon Exhibition, Singapore Zoo (Image credit Zooish @ zoochat.com)
What are some of the challenges of working on a global scale in the realm of landscape architecture?
Most of a new company's work will start off being local, relying on a local reputation recognised by local Government and developers, but over time as your reputation grows your network widens and opportunities are presented to work further afield.
Overseas work becomes exponentially more challenging the further away the projects are. Large projects such as big resort hotels, or extensive urban developments, demand a lot of quality time on design and overseeing site work. It is essential to have sufficient staff with experience and a willingness to work in widely different conditions with different languages and cultures.
Preparing fair but strong contracts is essential, but not always easy, as in some locations contracts have to be made in local language and script, which require translators to read. Taxation also has to be carefully dealt with, to avoid nasty surprises later on. Currency exchange is another tricky aspect which takes experience to deal with.
Who do you feel does public greenspace best and why?
It's hard to pin down individual names today, as there are so many creative people and firms now active in this arena.
Roberto Burle Marx, apart from being a huge influence on me, was perhaps the most notable modernist who wove art into his landscapes and changed the views of a whole generation of designers. Martha Schwartz followed in terms of inspiring young designers as she also brought art straight into landscape design. Peter Walker also added geometry as art into highly structured landscapes. Kathryn Gustafson also demonstrated the power of highly organised landscapes that didn't look organised but are relaxed and satisfying.
There are many others, but these early protagonists are the ones who I believe set the ball rolling. As landscape architecture becomes more of a recognised profession and takes a leading role in creating the future of urban environments, we can expect a constant evolution of beautiful spaces in our towns and cities.
Jurong Bird Park (Image credit Sang Keng)
Some of Henry's past works include:
Resorts World Sentosa
Ethiopian Baboon Exhibition, Singapore Zoo
South East Asian Aviary, Jurong Bird Park
Palawan Beach, Sentosa Island
SAFTI Military Institute
Henry will be appearing at this year's IFLA World Congress from 18 – 21 July at that Sands Expo and Convention Centre in Singapore. To find out more head over to www.ifla2018.com
SEARCH
SUBSCRIBE TO ENEWS
MORE INTERVIEWS
TOTAL ENVIRONMENTAL CONCEPTS
PROLUDIC CELEBRATES
REVIEWING URBAN DESIGN
A LANDMARK LANDSCAPE
CULTURAL CONCERNS IN THE LANDSCAPE
PLANNING AHEAD: A CAUTIONARY TALE