HAMISH MITCHELL
05 Dec 2011
ODS E-News Q & A with Owner and Managing Director of Speciality Trees, and President of Landscaping Victoria Hamish Mitchell.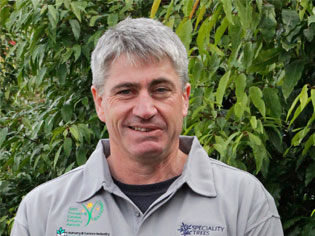 Outdoor Design Source Q & A with Owner and Managing Director of Speciality Trees, and President of Landscaping Victoria Hamish Mitchell.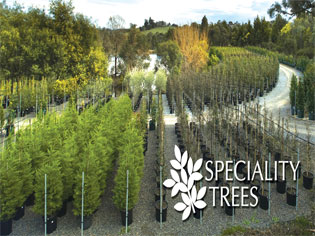 How long have you been in the nursery industry?
I have been in the nursery industry for about 15 years, and prior to that worked in amenity horticulture specifically as Garden Supervisor at the New Parliament House Canberra, a position I held for over eight years. Prior to that, I was at the Governor General's residence in Yarralumla. Before owning Speciality Trees and as a side passion, I owned and operated my own company set up specifically to consult to growers of advanced trees. My goal was to assist them with nursery practices to achieve the best from their stock. With Speciality Trees I get to continue this long-term interest in trees. I also worked with Anthony Tesselaar International for a number of years.
Can you tell us a bit about your background – education, experience etc?
I grew up in southern NSW. My family had always been avid gardeners and plants people mainly working on the land as farmers and graziers. Initially after leaving school I went Jackerooing but quickly realised that wasn't for me and headed to Canberra and obtained a job in a small nursery. I then studied horticulture at night achieving a Certificate of Horticulture majoring in Landscape. I later went on and did an Associate Diploma of Applied Science in Horticulture majoring in Parks Management and finally a Certificate of Turf Management.
When was Speciality Trees established?
Speciality Trees was established in the late 70's by Ernie Linton when he was contracted to grow advanced native trees for the Knox shopping centre. He was very innovative in how he went about this and was one of the pioneers in growing Australian native trees to large sizes. It has passed through two other hands since then - John Kuypers and David and Pam Rothfield. My wife, Gaby, and I bought the business in 2008. It is a fantastic site to grow trees on, a picturesque 21 acres with a sustainable water supply. Ernie knew what he was doing.
Can you tell us a bit about the company – what it specialises in, projects that have recently been completed, award wins?
Speciality Trees specialises in growing high quality advanced trees. We pride ourselves in the sustainable production of trees and a solutions-orientated service to our customers. In recent times we have complemented great growing and supply with a dedicated compilation service for select customers looking for quality in all sizes, consultation and support services.
Our primary aim at Speciality Trees is to ensure that our trees perform better in the landscape than in the nursery, so every specimen is meticulously prepared to that end. Assisting this is our specially designed growing medium and an integrated pest management program which ensures the tree can take with it a healthy dose of good bugs to assist in the establishment process. Trees are routinely pruned and fertilised and well prepared for life outside of the nursery. We are NIASA accredited and EcoHort certified so we can confidently stand by our supply pledge of sustainably grown premium landscape material.
We are very proud to be involved with many projects of various sizes including small courtyard gardens through to large developments. We have recently provided trees for Stage 1 and Stage 2 of the iconic Australia Garden at the Royal Botanic Gardens Cranbourne - an amazing landscape project we are extremely proud to be part of.
Speciality Trees holds the title of Best Victorian Medium Production Nursery 2010 and 2011 and is the current 2011 National winner under the auspices of the Nursery and Garden Industry Australia and its association state bodies. We have a broad range of technical and business skills due to fantastic staff who are dedicated professionals in their own areas of expertise and who by their very nature and own initiation look for ways to improve the things we do. Encouraging them to pursue further education in areas of interest is one of our ongoing priorities and part of each member's personal development plan.
What is your design philosophy when it comes to landscaping?
That's a good question for a nursery man. I like lots of plants, I like simplicity, I like genuine visual direction - one that leads you through the landscape. I like drama and excitement as well as the unexpected. From a philosophical point of view the landscape needs to be sustainable, functional and colourful, and well suited to the people and personalities that live in it and use it.
What do you have planned/coming up?
Planning is vital to our business. Keen to promote the benefit of green material in the landscape and in particular bringing quality, unique, Australian natives into the residential domain, we are involved in the development of new grafted material with improved features and compact heights. Our Signature Tree range is our introduction into this exciting area.
We are also looking at growing a greater range of varieties, giving our clients greater choice. Speciality Trees has recently started a compilation service and this is developing well. With Warren Park Nursery we can offer our customers a broader range of stock to choose from for their individual projects. Our team are very focused on supporting the industry both through Landscaping Victoria and the Nursery and Garden Industry Association. We are the true 'Green Industry' and in a great position to influence the way everyday people embrace environmental sustainability.
I am on a number of committees and currently the President of Landscaping Victoria. As a body we are working hard to revitalise the national landscape association which we hope to get happening early in 2012. There is great research being done on the benefits of plants in our urban environments - everything from cooling the heat sinks of our modern buildings to the mental wellbeing of its inhabitants. I firmly believe that the 'Green Industry' has a great future and that we have the techniques and ability to manage some of the big issues that are challenging our environment including climate change and the future wellbeing of our cities and their inhabitants.
Visit: www.specialitytrees.com.au
SEARCH
SUBSCRIBE TO ENEWS
MORE INTERVIEWS
REVIEWING URBAN DESIGN
A LANDMARK LANDSCAPE
TOTAL ENVIRONMENTAL CONCEPTS
PLANNING AHEAD: A CAUTIONARY TALE
PROLUDIC CELEBRATES
CULTURAL CONCERNS IN THE LANDSCAPE