HOW IT ALL BEGINS FOR KLS' SANDSTONE
10 May 2018
Kellyville Landscape Supplies have their own state-of-the-art sandstone cutting operation onsite, which enables the company to produce high quality finished sandstone products cut to specific customer requirements and pre-cut standard sized items to keep in stock.
KLS sources large blocks of sandstone in various colours and, using bridge saws, begin the process of cutting the stone into slabs of different thicknesses. The slabs are used for paving, capping for piers and walls, and cladding. The thicker slabs are cut or hydra-split into blocks and can be used for a wide range of applications.
The stone edges can then be finished as required if the straight sawn edge is not preferred. Rock-faced, bullnose, chamfered or bevelled edges are all achievable. Sparrow pecking by hand, sandblasting, engraving and lettering can also be applied to sawn sandstone. Pyramid pier caps, window sills and quoins, for example, can all be produced with KLS' equipment by the company's professional and experienced staff.
With the use of the hydra-splitter, KLS have blocks in various colours and uniform sizes that can be used to create retaining walls, garden edges and grand driveway entrance ways. The splitter produces a natural surface to the stone, rather than a smooth finish. Random ballast blocks, square ballast blocks and flagging are consistently all in stock, available in various colours.
KLS provide products for both commercial and domestic applications. Sandstone has a variety of uses and can give an urban space a natural feel or a modern space an elegantly classic and traditional atmosphere.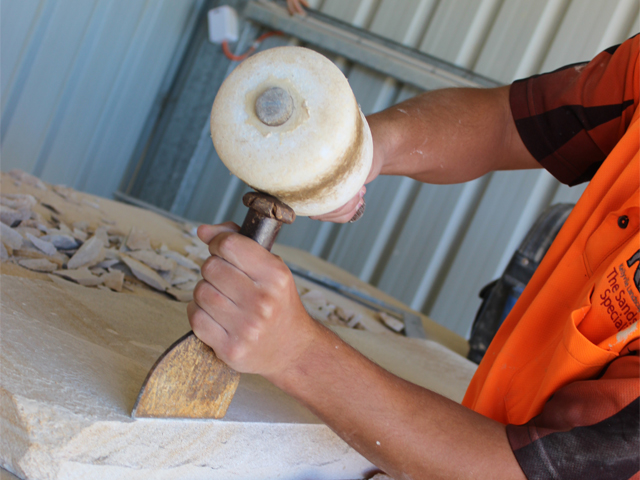 For more information on KLS' wide range of sanstone products, visit the website or contact them via the links below.
SEARCH
SUBSCRIBE TO ENEWS
MORE NEWS
MARINE & CIVIL WORKS SOLUTIONS
CLAD IN STYLE
NATURAL STONE CLADDING
AUSTRALIAN SANDSTONE | THE TIMELESS CHOICE
GOSFORD QUARRIES | RETAINING WALL BLOCKS AND SANDSTONE GARDEN EDGING SOLUTIONS
SOMETHING NEW