HOW DOES YOUR GARDEN GROW?
20 Apr 2016
With vertical gardens increasing in popularity, gardening is now even more adaptable for both large and small commercial and private spaces with VersiWall® Panels from Materials in the Raw.
Gardens have never been so adaptable with the increasing popularity of Vertical gardens. Space efficient, good for air ventilation and aesthetically pleasing, bringing nature ever closer is easy with Materials in the Raw's (MITR) VersiWall® panels. Greening-up a drab wall or fence and adding life to courtyards and entrances with a combination of natural and organic décor via a vertical garden is a contemporary idea that offers versatility to landscapers and DIYers alike.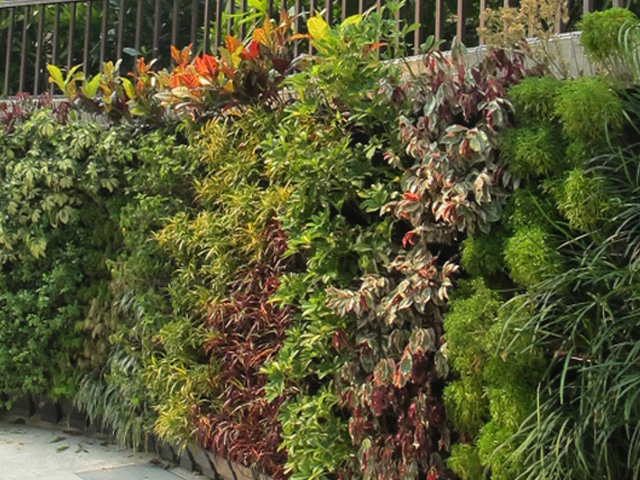 With several products available from MITR's VersiWall® range, creating a lush oasis is easy. Made from recycled plastic, VersiWall® panels are the perfect starting point. Screw fixed to any wall, these panels provide the perfect mounting surface without extensive damage to the wall, and make adding and removing planters as needed simple. VersiWall® planter trays simply hook on to the VersiWall® panels, giving you instant texture and impact.
Perfect for courtyard and balconies, or just about anywhere ground area is limited, the VersiWall® system increases the growing area without taking up precious floor space. Once the panels are installed, simply hook on your VersiPot and fill with a mix of plants to complement the needs of the space. The ease of installation and versatile structure of the VersiWall® vertical garden system means that herbs and edibles can be used and replaced as needed, or more hardy succulents and seasonal flowers can be planted depending on location requirements.
For larger landscape designs, why not break up your vertical garden panels with a decorative screen. If creating privacy or delineating an outdoor space is required, architectural screen panels offer a simple and easy solution that create dimension and interest, particularly when combined with VersiWall® vertical garden panels.
Made from 100% Australian plantation hardwood timber and designed for outdoor use, MITR's decorative screen range has been weather tested and is eco friendly. Tough enough for the Australian outdoors!
For more information on the VersiWall® vertical garden system, or to check out their decorative screen range, visit www.materialsintheraw.com.au or contact Materials in the Raw on 13 13 82.
SEARCH
SUBSCRIBE TO ENEWS
MORE NEWS
THREE MILLION TREES PLANNED FOR ROME
URBAN CANOPEE HAS COME TO AUSTRALIA!
REC CENTRE WITH GROWTH POTENTIAL
ECO-TOURISM TAKES FORM IN DESERT
MARCUS CONSTRUCTIONS BRINGS GREEN TO AUSTRALIA
GREEN WALLS CONNECT CITIES TO NATURE