HERITAGE STYLE
05 Sep 2019
Solid ballast sandstone from Gosford Quarries is a spectacular, rustic dry sandstone that lasts a lifetime. See how it perfectly complements the aesthetic of this stunning heritage residence set in the Australian bush in Holgate, NSW.
Sandstone has the amazing power to be both economical and extraordinary, as can be attested by Gosford Quarries' (GQ) range of affordable sandstone that creates an impact in any setting.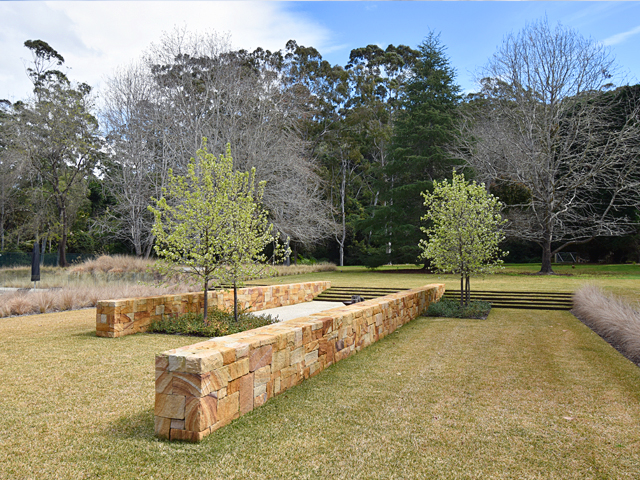 Since 1922, GQ has been synonymous with quality Australian sandstone. GQ is able to achieve stunning designs and finishes with its innovative, state-of-the-art technology, unparalleled experience and exceptional service. From landscaping walls to cladding and custom-profiled monuments, GQ can assist clients with any sandstone need.
GQ's 100 percent natural Australian solid ballast in a quarry run-mixed colour range is the perfect addition to the extensive outdoor space of this home and effortlessly highlights the stunning surroundings. This practical and aesthetically pleasing sandstone is able to harmoniously integrate into all environments and landscapes, making it the perfect choice for any external project.
Enquire about this ballast material and GQ's many other rustic sandstone products that will elevate the design of your landscape.
Installer/Landscaper Simon Head – Simply Foliage
Product Solid Ballast Quarry Run non-select – Gosford Quarries
SEARCH
SUBSCRIBE TO ENEWS
MORE NEWS
PEDESTRIAN POWERED PAVERS
IN THE SWIM OF THINGS
RID SURFACES OF EFFLORESCENCE
HEATING UP THE OUTDOORS
FROM RIVER TO RAIL
SUPERIOR SUPERSTONE™ TECHNOLOGY