GROUP WORK CREATES TONGZHOU'S NEW CBD
24 Jul 2013
The proposal features six towers atop a large podium adorned with gardens and swimming pools. The towers would be interconnected with landscaped bridges.
Dutch architects UNStudio have designed a concept for a new business district at Tongzhou in Beijing, consisting of skyscrapers linked by aerial bridges.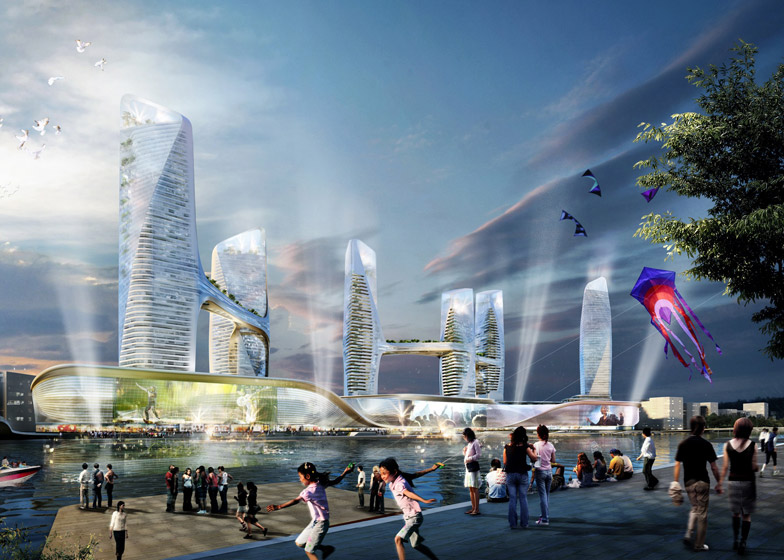 The proposal features six towers atop a large podium adorned with gardens and swimming pools. The six towers would be interconnected with bridges and would form lively groups which interact according to a layered choreography. The towers would be grouped in three pairs, with each pair sharing a platform on the ground level. However, as defined by the bridging connections, the towers would also be grouped as a couple, a trio and a single. The design is a dynamic composition created by introducing asymmetry in plan, orientation, clustering and façade treatment; UNStudio believes that this "build-up of asymmetries has a far-reaching urban effect whilst simultaneously relating to users on a more personal scale".
The bridges would feature gardens and landscaping for public use as well as a function area for events, providing a mesmerising view of the city.
Many active sustainable measures were incorporated into the design, including green roofs and walls and insulated winter gardens to improve air quality and provide insulation, and which also create a vivid and striking design element.
The silhouette of the towers is derived from a combination of substantial differences between the lower and the upper parts of the buildings and the binding together effects of diagonal wrappings. On the lower parts the towers are marked by dense stacking, whilst towards the top they become smooth and reflective. This textural contrast is mediated by the strong diagonals running the entire length of the towers.
Occupying a space of 108,700m2, the development is set to create a million square metres of retail, apartments, offices, hotels and transportation infrastructure which would be housed in the towers and also in the waterfront podium where Tongzhou's two waterways converge.
SEARCH
SUBSCRIBE TO ENEWS
MORE NEWS
TREEHOUSE SCHOOL FOR POST-COVID LEARNING
ELEPHANT WORLD CULTURAL COURTYARD
LANDSCAPES GOOD ENOUGH TO EAT
PERTH WELCOMES NEW $695M UNIVERSITY CAMPUS
TIMBER CAR CHARGING STATIONS CREATE REST
UPPER AUSTRALIA