GREENING GLEN EIRA
13 Aug 2014
To help improve and maintain its outdoor green spaces, a major city council in Melbourne called upon Toro to install a new central control system.
The City of Glen Eira in south eastern Melbourne has around 70 hectares of open space and sporting facilities it maintains on behalf of almost 130,000 ratepayers.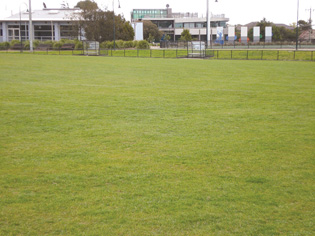 Each of these sports fields, parks and gardens has its own unique irrigation requirements that are met through a network of sprinklers, drippers and in some cases, hand watering.
Computerising and automating these functions is key to ensuring the best possible results with the most efficient use of staff, water, fertiliser and time.
The recently installed new generation Toro Sentinel™ Central Control System, Toro Turf Guard® sensors and four new weather stations allows Glen Eira to meet the diverse irrigation requirements of sports fields, parks, garden beds and trees.
The Toro Sentinel Central Control System comprises a central computer, irrigation controllers, sensors, weather stations and a communications system that ties it all together. The inclusion of Turf Guard sensors allows for measurement of critical information including moisture penetration, salinity and soil temperatures, which play crucial roles in turf health.
The Council's Grounds Maintenance Coordinator, Mr Peter Todd, said the new Sentinel system is easy to operate and can be accessed and controlled remotely via tablet computers rather than through a central point for the ease of grounds staff.
"This new system replaces the old central control system and allows us to incorporate the remainder of our smaller parks into the one central control system.
"One of the main reasons we chose Sentinel was that it could incorporate up to16 separate programs. While other systems are available that can provide multiple start times, they did not have the flexibility we needed for our irrigation needs.
"Together with its related sensors and weather stations, the Sentinel system can operate by itself, or could be easily adjusted to take into account the different requirements of winter and summer watering."
The City of Glen Eira has six permanent grounds staff, a number that increases to as many as 12 during the summer when turf cricket wickets need to be maintained.
SEARCH
SUBSCRIBE TO ENEWS
MORE NEWS
NEW GROWTH AFTER FLOODING DEVASTATION
2018 IRRIGATION AUSTRALIA CONFERENCE AND EXHIBITION
IRRIGATION FIT FOR A WINNING TEAM
NAVIGATING THE CHANGING LANDSCAPE
JUST ADD WATER
RAINGARDEN RESERVE STAYS GREEN