GREEN IT AND THEY WILL COME
14 Dec 2016
A community rooftop garden project in Brookyln will cover 1858sqm of prime NY real estate to attract local wildlife and provide opportunities for educational programming on sustainability matters.
A flourishing elevated meadow is slowly but surely coming to fruition atop an otherwise grey rooftop in Greenpoint, Brooklyn. Located atop a large warehouse, the rooftop garden was made possible thanks to the hard work and support of local businesses, community voices and area wildlife experts. According to Brooklyn Reporter, the 1858sqm (20,000sq ft) rooftop was specially designed to attract and feed local birds and insects. Once completed, the living green monument to native New York wildlife will be used for educational programming focused on green infrastructure, sustainable conservation, and wildlife protection.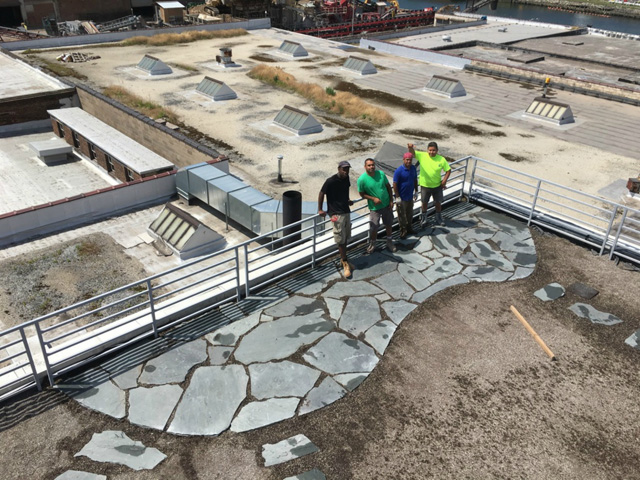 The ambitious rooftop garden is the brainchild of Marni Majorelle, owner and founder of Alive Structures green roofing company. Her vision was to create over 1858sqm (20,000sq ft) of green roof on top of a Greenpoint warehouse by planting and cultivating native grasses and wildflowers that would support birds and insects in the neighbourhood.
"The Kingsland Wildflower roof will provide a green corridor of native grass and flower habitat for New York City's bird and insect populations," Majorelle says.
"The project will develop 20,000-plus square feet of green roof planted with native grasses and wildflowers," explains Kingsland Wildflower Roof Project Coordinator Niki Jackson. "The roof will serve as both a bird/insect/bat habitat as well as a community engagement space for local environmental sustainability projects in North Brooklyn."
The verdant project is slated to be completed over the course of three years. Recently, the team celebrated the completion of Phase 1 of the initiative at the first Kingsland Wildflower Festival, which invited visitors of all ages to view the garden's progress along with spectacular views from the roof's wildflower meadow. The festival included rooftop tours and chats with wildlife and plant experts. The party was the first of three annual festivals that will coincide with the completion of each construction phase.
SEARCH
SUBSCRIBE TO ENEWS
MORE NEWS
A NATURALISTIC MANIFEST
VERTICAL HYDROPONIC FARM
MAXIMISING URBAN GREENSPACES
GREENWALLS BRING SUSTAINABILITY
TORONTO'S QUAYSIDE WATERFRONT SUSTAINABLE COMMUNITY
HUMAN-CENTERED BUILDINGS