GET OUTSIDE WITH AN OPEN-AIR PERGOLA
24 Mar 2022
CastStone has designed, manufactured and installed many outdoor open-air pergolas in large areas and small backyards with minimal space.
Winter or summer, open air pergolas can bring an ageless style to home backyards, extending the living space to the outdoors. Home owners who want a place to enjoy afternoons having lunch with friends and family, a glass of wine in the early evenings or a cup of coffee on a cool winter's morning. Pergola's are able to be used as outdoors spaces for at least nine months of the year, making an outdoor structure like this a good investment.
CastStone is flexible and efficient at meeting any projects brief. Specifically, CastStone constructed this pergola in a narrow-spaced exterior. With a brief for a classic structure with creeping vines to protect users from the sun or wind and fairy lights threaded through the greenery for a bit of nigh time magic. Each column was painted cream to colour match the home. Prefer not to paint? Not to worry! CastStone's precast sandstone concrete columns and pillars can be left unpainted to naturally age overtime as they take on the natural elements of their surrounds.
Here CastStone used six fluted columns around the paved area, and decorative timber beams were laid across the top for the green creepers to grow over. The result is magical and added a beautiful dimension to this backyard - a stunning and practical open-air pergola that can be enjoyed all year round.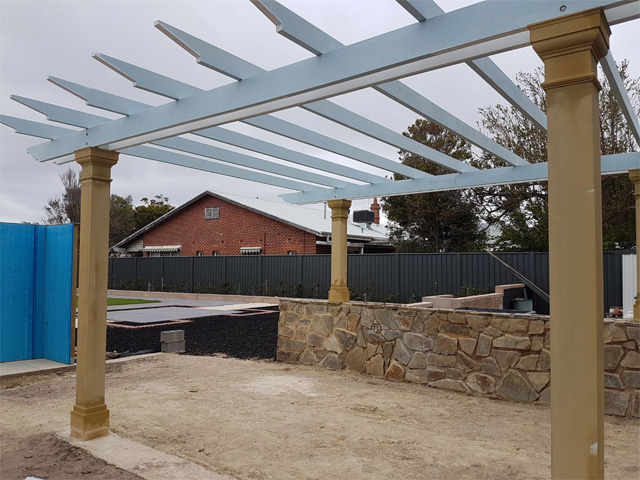 CastStone used four square columns with different heights to form the basis for the rectangular structure, incorporating a stone wall built for a raised garden bed.
Big or small outdoor area? There is an open-air pergola design that will suit any home or project. With features to choose from ranging from ornate or simple shafts, ornate capitals, various shapes, widths and heights that can have integrated lighting options for any combination of wood, tubular steel or ironwork, the possibilities are endless to enjoy an open-air pergola.
CastStone freights Australia-wide to Sydney, Melbourne, Perth, Brisbane, Hobart and regional areas.
To discover more about CastStone, click on the links below or visit their showroom at 950 Port Road, Albert Park SA.
SEARCH
SUBSCRIBE TO ENEWS
MORE NEWS
STYLISH AND MODERN GATE PILLARS
INTRODUCING ULTRALOX, AUSTRALIA'S MOST INNOVATIVE BALUSTRADE SYSTEM
WPC FENCING SOLUTIONS
A TOUCH OF LUXURY
THE FORGOTTEN LANDSCAPING & FENCING PROFILE
CREATE A STATEMENT ENTRANCE