FIRESTONE PONDGARD
08 Mar 2017
Projects with long term waterproofing or retention specifications need a superior geomembrane solution. Firestone Pondgard EPDM rubber liner is the number one choice. Could this be the solution you are looking for?
Firestone has been a world recognised leader in rubber polymer technology for over 100 years. Building on this broad legacy, Firestone Building Products has become a leading global manufacturer of rubber roofing and waterproofing membrane systems. Aquascape Supplies Australia is an Australian distributor of the Firestone membrane systems, helping to continue their legacy.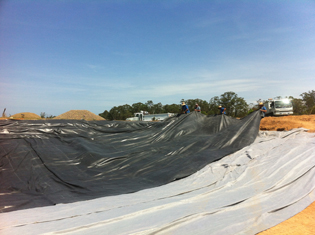 Firestone EPDM Pondgard rubber liner is a superior geomembrane barrier. Used with any geotechnical engineering related material it controls fluid or gas migration in a human-made project, structure, or system. Applications for the product can range from ornamental ponds and water features to wetlands, large-scale lakes, dams, reservoirs, canals and even landfill capping
The long life of Firestone EPDM rubber coupled with a quick, easy installation, which can be carried out onsite, make Firestone EPDM rubber liner the number one choice for any project.
Firestone geomembranes are made of EPDM rubber and are available in varying roll sizes up to 15.25m wide and 60m long and in thicknesses of 1.02mm, 1.14mm and 1.5mm. Rolls can be easily seamed and joined onsite utilising a unique patented cold-seam process. Full engineering specifications and data sheets are available on request for specifiers.
Some of the benefits of Firestone EPDM Liner are:
Long term durability
High elasticity (> 300% Elongation)
High flexibility even at low temperatures (down to -45C)
Excellent puncture resistance
Chemically inert
Low environmental impact
Fish safe
Quick and easy installation
Easy to repair
Limited lifetime warranty
Aquascape Supplies Australia, in conjunction with Firestone, offer installation courses that teach the finer aspects of cold-seaming, joining and other technical aspects of EPDM rubber liner.
If you would like to know more about the products and services Aquascape Supplies can offer your business contact 07 5446 7963 or email office@aquascapesupplies.com.au
SEARCH
SUBSCRIBE TO ENEWS
MORE NEWS