ENTERPRIZE PARK SLATED FOR UPGRADE
05 Mar 2020
Located on the north bank of the Yarra River in Melbourne, Enterprize Park will soon undergo an improvement makeover to create a more accessible and inclusive public space.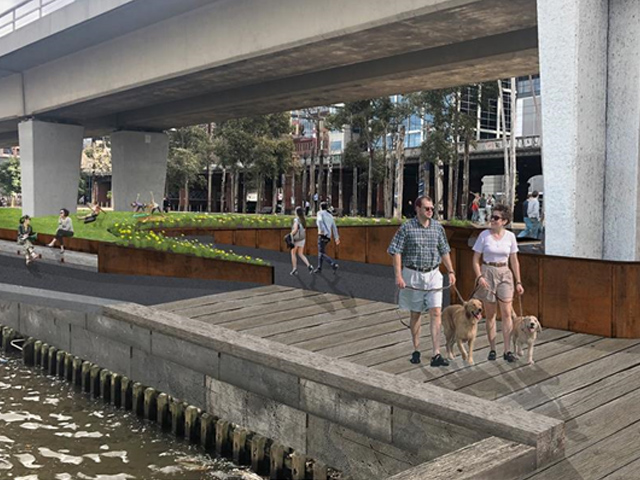 The City of Melbourne will soon begin upgrades at Enterprize Park. Located between the well-visited sites of Melbourne Aquarium and Queens Bridge Street, the improvements will create greater accessibility and more inclusivity for all Melburnians, according to Lord Mayor Sally Capp.
"We want people to come down to Enterprize Park and use the area for picnics, for meeting up with friends and family, and as a place to relax and enjoy our city," the Lord Mayor said.
"These improvements will see the lawn areas expanded, views enhanced and stronger connectivity between public areas along the river.
"The existing concrete plinths at the base of the railway viaduct block views between the park and the river. They are not required structurally so we'll be removing them to make way for an additional 1000 square metres of green space."
Works will also include seating along the river's edge, accessible pathways and wider stairways to increase access, an improved meeting place for Aboriginal cultural tours and the reinstatement of indigenous vegetation.
Chair of the Aboriginal City portfolio Councillor Nicolas Frances Gilley said the City of Melbourne is working to restore the space for everyone to enjoy.
"Enterprize Park has a complex history. It was a traditional camping ground for Aboriginal people before European settlers arrived on the Enterprize ship in 1835," Cr Frances Gilley said.
"As a city with an Aboriginal focus, we want this park to become a place of acknowledgment and respect for the Aboriginal community."
The City of Melbourne has been engaging with the community for a number of years and has received strong support from local residents, businesses and Traditional Owners to breathe new life into the space in and around Enterprize Park.
The Yarra River - Birrarung Strategy was endorsed by Council in December 2019 and provides a framework for improvement of the city river corridor, including Enterprize Park. The City of Melbourne will be working with other government stakeholders and Traditional Owners to identify and realise further opportunities for the site that celebrates it as an important cultural place.
The first stage of preparation works to demolish the concrete plinths will commence in late March, with the main park construction to commence in August. The park improvements are expected to be completed later this year.
SEARCH
SUBSCRIBE TO ENEWS
MORE NEWS
A LABOUR OF LOVE | Q&A WITH PTA LANDSCAPES
#EACHFOREQUAL WITH WOMEN IN LANDSCAPING
2020 NSW LANDSCAPE ARCHITECTURE AWARD WINNERS ANNOUNCED
GREENSPACES A KEY CONCEPT IN MEGACITY DESIGN
WINNERS ANNOUNCED FOR AILA NSW, ACT, VIC AND QLD AWARDS
WHY SHOULD YOU JOIN LANDSCAPING VICTORIA MASTER LANDSCAPERS?