ENGINEERING MEETS THE ARTS
21 Oct 2015
Artistic expression meets StreetBond™, a leading edge surfacing system that adds colour to asphalt and concrete, to create a laneway of safety with street appeal.
Taking on the challenge of creating a safety zone for Walnut Street in Cremorne, MPS Paving Systems (MPS) was able to produce a result that is as spectacular as it is practical.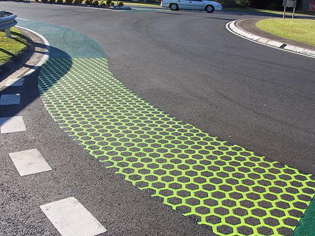 Tasked with creating a laneway that was aesthetically pleasing for pedestrians and business owners, and also function as a traffic safety guide, MPS partnered with artist Tom Civil to come up with a solution.
Combining their StreetBond™ coating system with the considerable talents of this accomplished artist, MPS surfaced Walnut Street with a unique design that reflects Australia's unique colour palette and topography.
StreetBond™ is a surfacing system that can be used to add colour and designs to asphalt and concrete. Based on leading edge polymer, cement and epoxy technologies, it is designed to withstand a variety of weather and traffic conditions, making it the right solution for the Walnut Street project.
Suitable for all kinds of architectural hardscapes and traffic management applications, StreetBond™ can be used to create highly visible spaces that enhance safety – and provide an opportunity for unique artistic expression.
Equally versatile is MPS Paving's DuraTherm™, a decorative asphalt surfacing system that has stand out performance in high-traffic areas. Durable and flexible, this thermoplastic material will maintain its colour and integrity for many years.
DuraTherm™ is quick to install and laboratory and field tested. The reflective beads utilised ensure high visibility, and, because it is inlaid into imprinted asphalt, the durability is exceptional.
Check out MPS Paving's unique Vine Design, utilised to upgrade Burnett Street in Brisbane; just one example of the unlimited options provided by the versatility of the DuraTherm™ custom surfacing system.
The applications for StreetBond™ and DuraTherm™ surfacing systems are virtually unlimited. If you can design it MPS Paving Systems can create it!
Visit MPS Paving online to find out how you can create your own uniquely creative and practical surfaces at www.mpspaving.com.au
Images (top to bottom): Walnut Street, Cremorne; Walnut Street, Cremorne; DuraTherm™ bike lane; Vine Design; Burnett Street, Brisbane.
SEARCH
SUBSCRIBE TO ENEWS
MORE NEWS
SAFETY SURFACING WITH GREATER VISIBILITY
STREETBOND™ SURFACING A FEAST FOR THE EYES
SPECIALIST SURFACING FOR SAFETY