EMANCIPATION PARK FREED FROM NEGLECT
19 Mar 2018
In Houston's Third Ward neighbourhood, a neglected park has been transformed into an interwoven tapestry of buildings and landscape that celebrates the park's rich history and embraces its present community.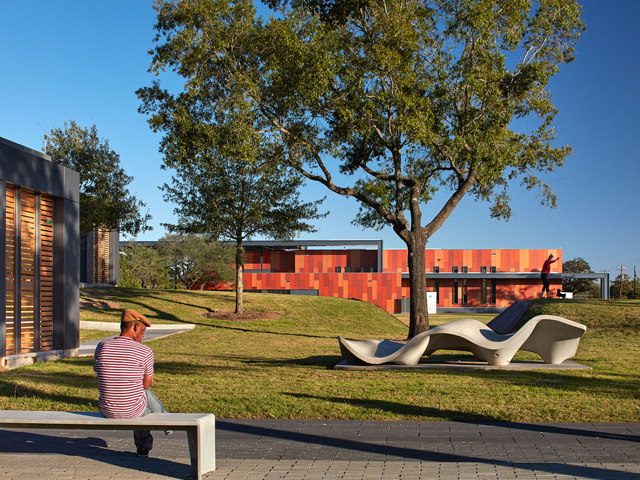 Developed by Perkins+Will, the historic Emancipation Park now services the local community on a scale never before seen in this region.
From the architects: [The park was] established in 1872 by four former slaves who pooled their funds to purchase ten acres of open space. Emancipation Park commemorates the announcement of the Emancipation Proclamation in Texas, today celebrated as Juneteenth or Freedom Day. Until the 1950s, it was the only public park and swimming pool in Houston that was open to African Americans. The condition of the park had grown tired and underused when Perkins+Will was commissioned to restore it, including refurbishing landscapes and playgrounds, renovating two historic buildings, and designing a new building and plaza.
Consistent with the 1938 Hare & Hare plan for the park, the new design organises major commemorative elements (a repurposed community centre, renovated and expanded pool house, and a new recreation centre) along a large entry plaza – Founder's Promenade. This new central spine is anchored on one end by the indoor/outdoor stage of the Community Center and extends to a grand gateway sculpture commemorating the movement from slavery to freedom. Its landscape stitches together entrances of each building with a flowing texture that branches out to activate and connect perimeter zones of the park.
The new Recreation Center is clad in colourful composite panels on the east and west facades. The rust and earth-tone colours of the panels echo the familiar patina of nearby shotgun house roofs and the red brick foundations of historical homes in the neighbourhood. A large porch connects the interior of the building to the plaza and mimics in scale the native live oak trees that were carefully preserved during the project. Altogether, the new Emancipation Park reflects the pride, resilience, and hope its founders expressed when they established the park 145 years ago.
,
,
,
,
Images © Mark Herboth
SEARCH
SUBSCRIBE TO ENEWS
MORE NEWS
SINGAPORE'S RAIN VORTEX
ROYAL GARDEN RESTORED TO CULTURAL ICON
PARIS REIMAGINED
2019 QLD LANDSCAPE ARCHITECTURE AWARD WINNERS
2019 VIC LANDSCAPE ARCHITECTURE AWARD WINNERS
AILDM RELAUNCHES WEBSITE