DESIGN A DUNNY WINNER
23 Mar 2016
The town of Kenilworth in Queensland will be receiving a new throne shortly when the winner of the Design A Dunny competition brings his winning entry to life.
Local designer Michael Lennie has been named the winner of the Sunshine Coast Council's Design A Dunny competition. Designs from close to 200 entrants were accepted into the competition, with Lennie being the eventual winner of the $10,000 prize.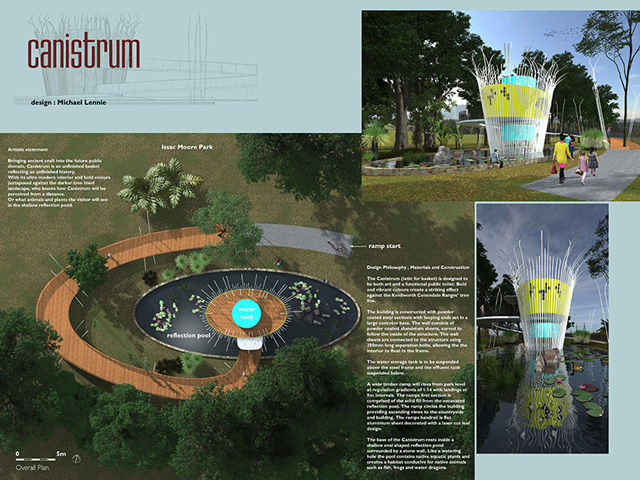 The competition, which opened in October 2015, invited participants from all over the world to submit designs for a new public toilet for Isaac Park in Kenilworth, Queensland. Open to participants from the fields of architecture and design, and open to artists both local and abroad, the brief called for a new public infrastructure that would create a sense of pride in the community and generate tourism in the town.
The citation that the winning submission, prepared by The Chair of the Jury, John Mainwaring, reads, "The functional spaces form a pod that floats within an inverted translucent 'cone like structure'. One of the great things about successful abstract expression is that the imagery leaves the viewer or user with many experiential options. Canistrum's roots come from the indigenous fish trap or basket weaving. It also is a dynamic combination of space and a cane or reed like canister. The idea is a strong endemic botanical metaphor reinforcing the skeletal appearance of the aquatic native flora that it shares within an oval lilly pond typical in the Mary River flood plain location after rainfall and flooding. It will be eye catching both during night and day. Access is solved via ramp and landscape mound that is also a viewing platform to surrounding landscape and vistas."
Canistrum, described by the artist as "an unfinished basket reflecting an unfinished history", will sit at the gateway of the rural township, welcoming visitors as they enter.
To bring Lennie's vision to life, the Sunshine Coast Council will enter into partnership with the artist to develop detailed construction plans, with the intent to build the new facilities sometime in the near future.
RELATED ARTICLE: Design A Dunny
SEARCH
SUBSCRIBE TO ENEWS
MORE NEWS
PUBLIC TOILET A SAFE ZONE