DANCE WITH A KITE
20 Aug 2019
A vibrant and dynamic installation in the form of an enlarged kite provides an immersive, personal experience based on play, music and dancing for visitors to the Good Vibes Festival in Malaysia. Inspired by architecture, Kite celebrates the joy of festivals and encourages visitors to create their own meaning from art.
Colourful strings playfully invite visitors to weave among the rainbow strands and have a cathartic experience as they are immersed in a unique, secluded environment.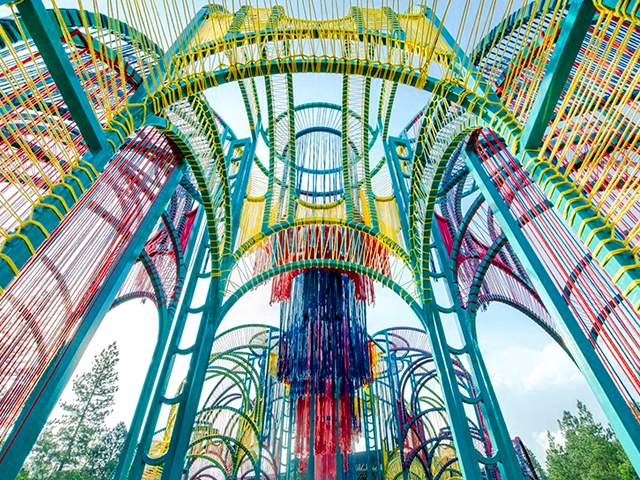 Designer Pamela Tan took inspiration from her architectural background to create the bright and immersive installation at the Good Vibes Festival in Malaysia. Her projection symbolises life and creativity and encourages visitors to experience a common object – a kite – in an enlarged form, creating a unique perspective on personal play.
Tan redefined the common understanding of a kite by forming her installation out of hundreds of colourful strings and modular structure. Kites are a common festival occurrence, usually in the form of crafting stalls, as they represent celebration and freedom. By enlarging this iconic object and transforming it into a public user experience, the installation creates a breath of fresh air for this festival favourite and seamlessly blends into the heart of the Good Vibes Festival.
The rainbow strings that form the body of Kite envelope the structure, creating a central atrium space. The strings remain loose, allowing for breeze and music to move them, providing a dynamic installation. Visitors are encouraged to weave and dance within the structure, experience a visual portal of light, colour and freedom.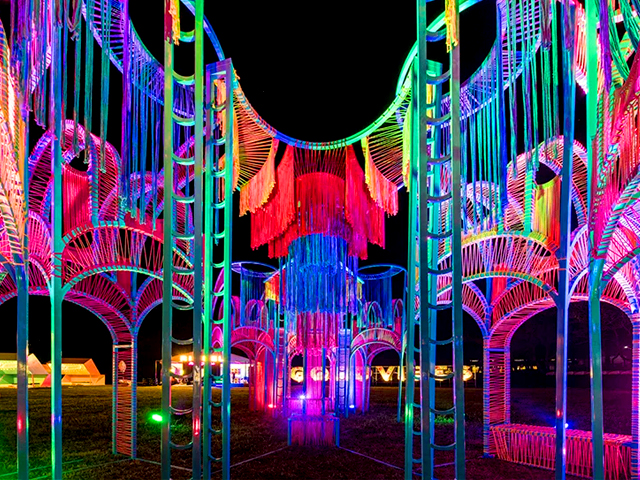 SEARCH
SUBSCRIBE TO ENEWS
MORE NEWS
ART IN PALAZZO STROZZI
MURAL FOR THE LOST
VIRAL ENERGY
TIME FOR COLOUR
THE ARCH FOR ARCH
BRINGING VISIONS TO LIFE