CREATE A STATEMENT ENTRANCE
18 Nov 2021
Whether traditional or contemporary, CastStone's precast sandstone concrete pillars are sure to make an eye-catching statement in every space.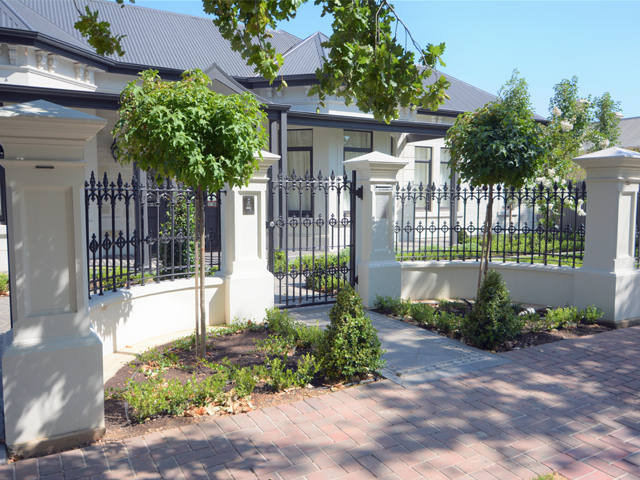 A well-planned and chosen fence does much more than just create a boundary, it changes your home's street appeal and how it is perceived by your visitors.
There are many ways to configure the entrance to a home using CastStone precast sandstone concrete pillars. Below are different examples of entrances for traditional and contemporary homes:
Curved, rounded and sweeping
This can be done with either pedestrian entrance gates or drive way gates (as seen in the above photo) – safely tucks cars off the road when entering while glamorising the entrance
Pedestrian path to door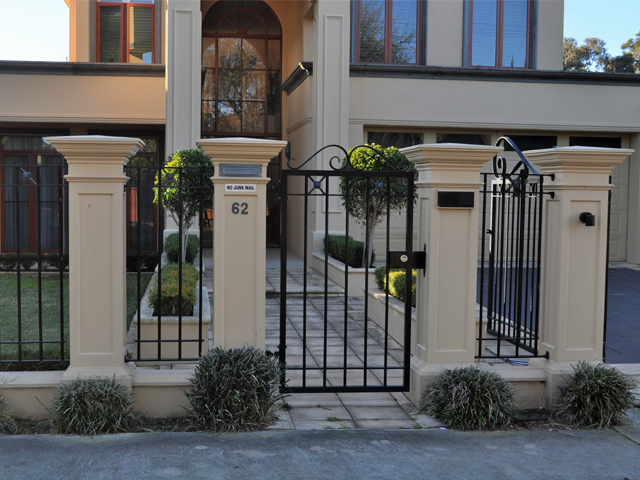 This home used CastStone Pillars to mimic the front façade of the home with pavers leading from the gate all the way to the front door, creates a sense of space, size and significantly increasing street presence.
Lighting the way
Concrete pillars can have integrated lighting or solar lighting added, illuminating the walkways, house numbers and Intercoms.
Stepped in
Entrances can be stepped in to create a designated area outside the home. The home's street presence improves and it looks fabulous! If you have a corner block, you can carve out what might otherwise be an unused corner of the garden, to create a lovely corner entrance. A set back entrance can also double as the sliding gate recess bay to accommodate the gate track on small frontages. This entry style works well with contemporary house designs and traditional – old or new builds.
Simple, modern, open
This entrance is simple, open and straight forward. Modern short pillars have been combined with quoins and an integrated letterbox with a pathway leading straight to the front porch.
Using slope to advantage
This fence has stepped foundations, so working with the slope the entrance was made grand by the deliberate spacing of the pillars to create a wider way than the gate width.
Designating a drive way
An Adelaide hills horse stud used CastStone Pillars to create road presence giving the entrance to the driveway grandeur and definition. CastStone sandstone concrete pillars have been used in many applications as standalone posts.
Defining space
A Bakery in the Barossa Valley extended their dining area to the outdoors with a precast concrete pillar fence. Now patrons can enjoy their wonderful food while sitting outside in the sunshine and watching passers-by. They also added black corners to the bases for practical reasons, to camouflage dings and chips from prams and general traffic. But they also brought the black trim into the pillar shaft itself to make it more uniform. CastStone designed the address plate, with the logo on one of the entrance pillars and the bakery name on the other. CastStone also helped to design a fence that would suit the historical streetscape of the Barossa Vally while enhancing the bakery's street presence, creating a valuable commercial space.
Rose garden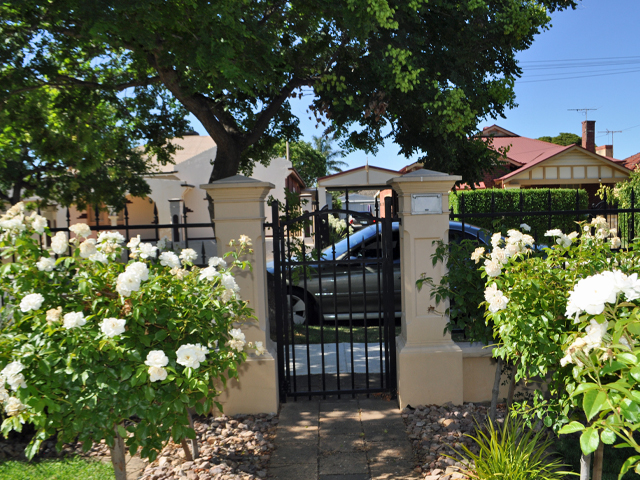 Creating a beautiful entrance can also be about the inside of garden…look at the path way lined with roses. CastStone pillars create a formal back drop to the rose lined path. Many fences are placed directly on the footpath which maximises landscaping space on the inside of the fence.
It's not just about the fence; the entrance makes a big statement too! A well-planned fence adds value to your home and increases resale, the right fence adds street presence and increases the value of your home, so investing in this is a wise use of your budget.
CastStone create beautiful precast concrete pillar fences, open air pergolas, memorials, and more.
Whatever your project, CastStone has been making sandstone concrete products for pillar fences, open air pergolas, veranda columns, memorials, letterboxes and more for over 34 years. CastStone are family owned, Australian made manufacturer with hand pressed products, minimizing waste, maintaining sustainability with low greenhouse emissions in all facets of CastStone manufacturing, ethical business that recycles
Call the friendly team at CastStone and discuss ideas about creating an entrance that suits your home's style and era. From heritage to modern, our precast concrete pillars fences come in all shapes and sizes. Full Do-It-Yourself Instructions available
CastStone ship products across Australia, after working out correct dimensions and designs via phone and email with many of our clients. CastStone freight to all cities in Australia as well as to regional areas and our prices are competitive. Call the team at CastStone today on (08) 8244 4888 or 1800 626 816 and give your home the street appeal it deserves.
To find out more about CastStone click on the links below.
SEARCH
SUBSCRIBE TO ENEWS
MORE NEWS
WPC FENCING SOLUTIONS
GET OUTSIDE WITH AN OPEN-AIR PERGOLA
THE FORGOTTEN LANDSCAPING & FENCING PROFILE
STYLISH AND MODERN GATE PILLARS
A TOUCH OF LUXURY
INTRODUCING ULTRALOX, AUSTRALIA'S MOST INNOVATIVE BALUSTRADE SYSTEM