CONCRETE CANVAS
04 Feb 2015
No molds, no mixing, quick and easy to install - it's concrete like you've never known and it's available here in Australia.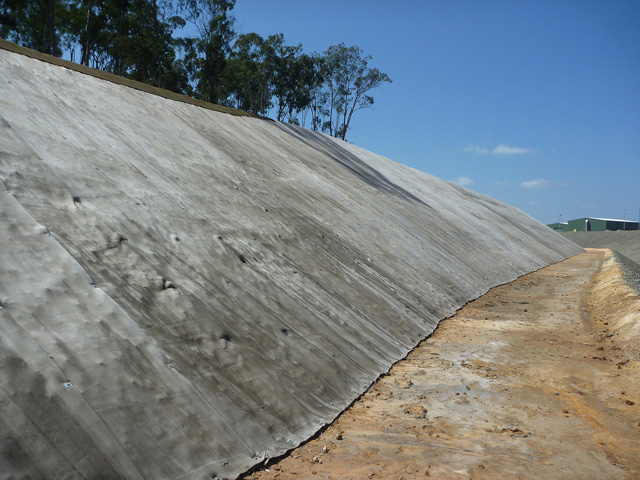 Imagine being able to use concrete on slopes, in water, and in other hard to reach places - with no molds, no mixing, and minimal equipment.
Burdens Australia Pty Ltd is the exclusive distributor for Concrete Canvas in Australia. This innovative product has gained worldwide accolades for its design and speed of installation and has been used as a time-saving material against more traditional labour intensive alternatives. A National Geographic's recent video on Concrete Canvas shelters using the material went viral, as nearly 4.8 million YouTube viewers saw how quickly a sturdy structure could be raised.
Concrete Canvas™ is a flexible cement impregnated fabric that hardens when hydrated to form a thin, durable, water and fire proof concrete layer. Concrete Canvas allows concrete construction without the need for plant or mixing equipment. It replaces the need for poured or sprayed concrete in a variety of applications, from ditch lining to slope protection and is simple and quick to install, requiring minimal training and only basic equipment and tools. Simply position the Canvas and just add water.
Typical uses for the product are in the following applications:
Bund lining
Ditch lining
Slope protection
Remediation
Weed suppression
Street Furniture design
Concrete Canvas™ consists of a 3-dimensional fibre matrix containing a specially formulated dry concrete mix. A PVC backing on one surface of the canvas ensures the material is completely water proof.
The material can be hydrated either by spraying or by being fully immersed in water. It can be installed in wet weather, cannot be over-hydrated and has a working time of approximately 2 hours, hardening to 80% of its strength in 24 hours. Once set, the fibres reinforce the concrete, preventing crack propagation and providing a safe failure mode. Concrete Canvas is available in 3 thicknesses: 5, 8 and 13mm.
The product has been used widely around Australia in a variety of applications and its popularity as an innovative alternative to more traditional techniques is growing daily. The versatility of the product has seen its application in more and more innovative ways from civil infrastructure to innovative street scape designs.
For more information visit www.burdens.net.au
SEARCH
SUBSCRIBE TO ENEWS
MORE NEWS
LEVEL CROSSING REMOVAL PROJECT
FUNKY PEBBLE SEATS BRING THE FUN
CUSTOM PRECAST SEATING
SYDNEY TRIALS WORLD-FIRST GREEN ROAD
MAXREST MAKES IT EASY
DRIZORO STOPS ACTIVE WATER LEAKS FROM BELOW SEA LEVEL