COLUMBIA'S LARGEST VERTICAL GARDEN
13 Jun 2017
85,000 individual plants across several species make up Columbia's largest vertical garden in the city of Bogota. The building works to reduce carbon emissions with the help of innovative irrigation systems.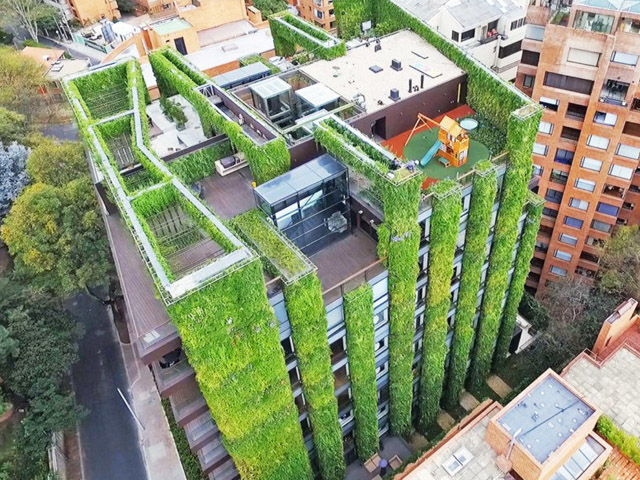 Located in Bogota, Colombia, the Santalaia building is completely covered with a lush layer of 85,000 plants that span 3100 square metres. A vertical garden of this size can produce enough oxygen for more than 3100 people every year, filter more than 2000 tons of harmful gases and catch more than 400 kilos of dust. This structure also directly counteracts the heat island effect within Bogota.
The record-setting vertical garden in Bogota was completed in 2015 after over a year of planning. Paisajismo Urbano's Colombia-based franchise Groncol designed and installed the vertical garden using the innovative F+P system, patented by Ignacio Solano.
This system is based on a series of pillars – each with its own vegetal cover – installed vertically over the facade. In addition to designing this system, Groncol constructed a special hydroponic irrigation system that could handle up to 42 different irrigation stations. This combined irrigation system is also regulated according to humidity levels and solar orientation.
Various endemic species were included in the design of the vertical garden to boost biodiversity. Varieties of plants used in the 85,000 plant strong green wall include; Hebe Mini, asparagus fern, rosemary, vincas, and spathiphyllum, among others.
"The architect's intent was to produce a uniform green layer with real plants," said Pablo Atuesta, general manager of Groncol. "He would have preferred to have only one species, but since it was too risky, we built several prototypes with different plants that would give us a uniform green tone and plant volume."
The incorporation of this vertical garden is a testament to the ongoing incorporation of vegetation and nature in our built environments.
SEARCH
SUBSCRIBE TO ENEWS
MORE NEWS
VERTICAL HYDROPONIC FARM
HUMAN-CENTERED BUILDINGS
MAXIMISING URBAN GREENSPACES
A NATURALISTIC MANIFEST
MAKING CITIES GREENER
GREENWALLS BRING SUSTAINABILITY