CHICAGO SKYLINE ON THE RISE
11 May 2016
A new aerial cable car system that will grace the Chicago skyline is expected to build tourism in the Windy City in the manner of the London Eye.
A new aerial cable car scheme, the Chicago Skyline, has been unveiled for the city of Chicago. With all the hopes of a success equal to the London Eye, the new Chicago Skyline proposal consists of a series of state-of-the-art, custom-designed passenger pods that can transport up to 3000 people across the city every hour.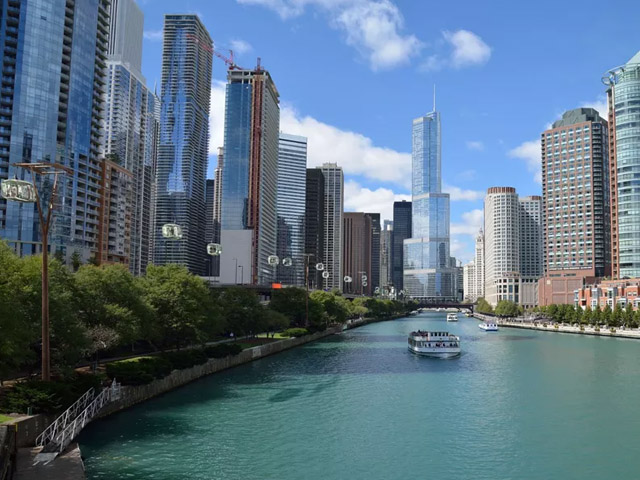 The system is designed to link the Windy City's Navy Pier and Riverwalk with the lakefront and downtown areas, and complete the transit network across the city. The Chicago Skyline was designed by Marks Barfield Architects and their US partner Davis Brody Bond. Barfield Architects are the firm responsible for the world famous London Eye attraction.
Also behind the project is the engineering team Leitner-Poma, who will be responsible for manufacturing the pods, and ride and drive systems of the new attraction, together with engineering design assistance from firm Jacobs. Both teams worked on the London Eye.
It is hoped that the success of the London Eye will be repeated, with Chicago's newest attraction helping to boost tourism in the notorious US city.
"The Chicago Skyline could do for Chicago what the London Eye has done for London, and become a very identifiable landmark within the city, driving tourism and prosperity," says David Marks, Director at Marks Barfield Architects.
"Its design touches the ground lightly and with an environmentally sensitive and delicate presence - like jewels in a necklace - energising the city's Riverwalk, and attracting the eyes of the world."
Offering a unique experience and magnificent views of the city, the Skyline project will run year-round into the evening hours – which might be needed in order to pay the bill for its construction. Reportedly estimated to cost $250 million (USD) to construct, the cost should be offset by the $330 million (USD) that is expected to be generated for the city every year via direct and indirect means thank to the attraction.
The Chicago Skyline project is currently being prepared for planning permission approval. No date has yet been released for commencement or completion of the project.
SEARCH
SUBSCRIBE TO ENEWS
MORE NEWS
BRIDGE OFFERS SAFE PASSAGE FOR ALL
FIVE ICONIC STREETS RESURFACED WITH RECYCLED MATERIALS
REIMAGINING THE URBAN CARPARK
MODERN CARBON NEUTRAL UNIVERSITY IN HAMBURG
A CLASSIC REINVENTED
ELECTRIC CYCLEWAY SPEEDS COMMUTE