BRIGHT FUTURE FOR GYMS WITHOUT WALLS
11 Feb 2015
The growing popularity of outdoor gyms will see a number of Green Energy fitness pieces installed as part of Sydney's Darling Harbour redevelopment.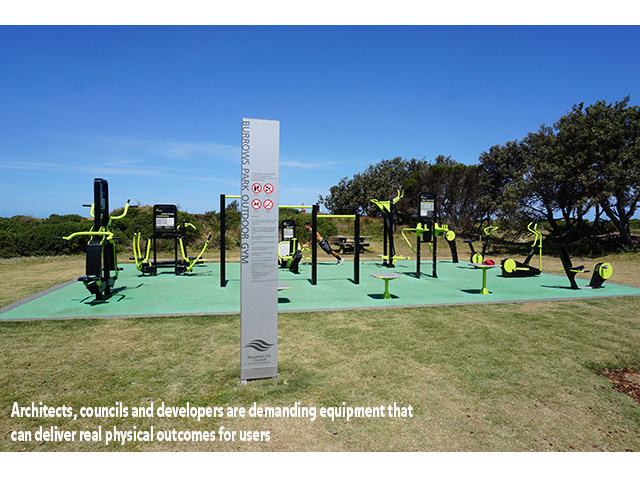 Landscape architects, residential developers and councils are continuing to recognise the benefits in planning and installing free-to-use outdoor gyms within their open spaces.
2014 saw an unprecedented number of outdoor gyms installed across Australia - a trend that is continuing in 2015.
Todays councils, architects and developers are recognising the vast array of outdoor fitness equipment available within the marketplace and seeking out equipment that actually delivers real physical outcomes for users - equipment that is designed to attract a broad cross-section of community users, from young to old, and beginners to experts.
Over the past three years, continued innovation has seen quality, safety and functionality of outdoor gym equipment meet new heights. In 2015 Sydney Harbour Foreshore Authority will be installing a number of Green Energy fitness pieces within the redevelopment of Darling Harbour - equipment that will allow users to recharge their mobile devices whilst exercising.
For further information please contact The Great Outdoor Gym Company on 07 3010 9723 or email: sales@tgogc.com or visit our website: www.tgogc.com
SEARCH
SUBSCRIBE TO ENEWS
MORE NEWS
NEW ERA OF PERFORMANCE VENUES
MARVEL'S COVID SAFE CINEMA
TE MARA HUPARA: STORYTELLING IN PRACTICE
THE GARDEN WITH 30,000 PLANTS
REVITALISING LIZARD LOG
SCULPTURES FOR SKATERS