BESPOKE VERTICAL GARDENS RISE UP
30 Aug 2018
Vertical gardens provide much needed greenery to an urban space and come in an endless variety of designs, themes and colour combinations. Atlantis Aurora strive to provide the best bespoke vertical gardens and can help you bring some green to your urban space.
Sustainability solutions are at the heart of Atlantis Aurora's company ethos and they strive to creatively connect urban life, work and play with nature. They specialise in vertical gardens and green walls and will work with your team to provide cost-effective environmental solutions.
DESIGN
Atlantis Aurora can design beautiful vertical gardens to suit the aesthetics of any project. They use the latest software programs to create visualisations, 3D designs and design plans of their concepts so that clients can see how a vertical garden can work with their project.
When selecting plants, Atlantis Aurora's team of landscape specialists and horticulturalists consider the project's location and lighting conditions. The plants they choose provide a variety of colour and contrast to maximise the visual appeal of the vertical garden. These installations require complex engineering and structural considerations. Atlantis Aurora's designs are always compliant with engineering certification.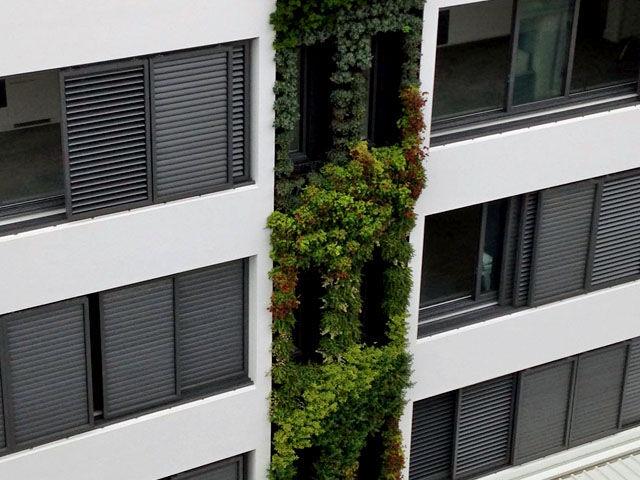 INSTALLATION
Besides designing vertical gardens, Atlantis Aurora also supplies and installs them Australia-wide and internationally. Atlantis Aurora utilises the latest technology, combined with a team of skilled and experienced installers and professional designers, ensuring the green walls are installed to suit the project's requirements with minimal maintenance required.
MAINTENANCE
Once the installation is complete, Atlantis Aurora offers ongoing, cost-effective maintenance. This covers irrigation, plant care, plant replacement, nutrient replacement and lighting for plant growth. Their vertical gardens require minimal water usage, yet will flourish for years to come.
To find out how Atlantis Aurora can assist you in creating a vertical garden for your outdoor space, contact them or visit their website via the links below.
SEARCH
SUBSCRIBE TO ENEWS
MORE NEWS
VERTICAL HYDROPONIC FARM
GREENWALLS BRING SUSTAINABILITY
TORONTO'S QUAYSIDE WATERFRONT SUSTAINABLE COMMUNITY
A NATURALISTIC MANIFEST
PARISIAN CONCRETE JUNGLE
HUMAN-CENTERED BUILDINGS