ARC ADJUSTMENT WITHOUT TOOLS
02 Jul 2014
For those day-in and day-out irrigation installations, the Toro T5 with RapidSet™ is the only rotor you'll need.
The Toro T5 Series Rotor is packed with features, including an industry-leading 125mm pop-up height, (optional) RapidSet™, advanced nozzle technology and superior, debris-tolerant seal.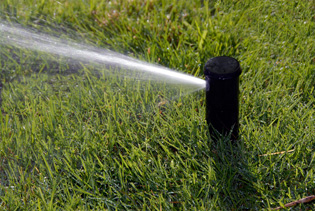 Quick and easy arc adjustment with RapidSet™A few twists of the nozzle turret is all that is needed to change the arc – no tools are required.
Turn the head clockwise to set the right arc edge; turn the head counter-clockwise to increase the arc to the desired position. The arc can be reduced in a similar fashion. A built in 'slip-clutch' protects the gears during adjustment.
125mm (5") pop up heightThe height of the rotor can make all the difference. The T5 rotor has a 125mm pop-up height that sits in the same footprint as competitive 100mm (4") models. The taller pop-up height allows grass to grow longer and roots to grow stronger – producing greener, healthier lawns.
Now it is easy to retrofit and upgrade existing irrigation systems without having to do any extra digging.
Great for grow-in applicationsThe T5 also features a high-performance, patent-pending Airfoil™ nozzle design.
The Airfoil™ technology creates a low pressure zone under the nozzle stream to gently glide water downward for close-in watering that won't wash away seeds. This makes it ideal for grow-in applications.
Nozzle TreeThe T5 comes with a full set of 8 standard nozzles (25o) and 4 low angle nozzles (10o).
Optional Check ValveAn optional check valve is available with a hold back strength of 2.1m of elevation change.
Standard Rubber CoverHeavy-duty rubber cover minimises injuries and reduces liability (black indicates standard; grey indicates RapidSet).
For more information and to watch footage on the T5, go to www.toro.com.au/t5
SEARCH
SUBSCRIBE TO ENEWS
MORE NEWS
JUST ADD WATER
THE LEADER OF IRRIGATION
DESIGN TEAM EXPANSION AT SMART WATER
RAINGARDEN RESERVE STAYS GREEN
THE SMART WATER CHOICE
NAVIGATING THE CHANGING LANDSCAPE