AN ELEVATED EXPERIENCE OF NATURE
19 Feb 2019
An experience-orientated, nature-play project, Whiting Forest is the latest installation to be erected in Dow Gardens, the city's landmark public gardens, and features a 427-metre-long canopy walk and open fields that encourage visitors to get 'lost' in nature.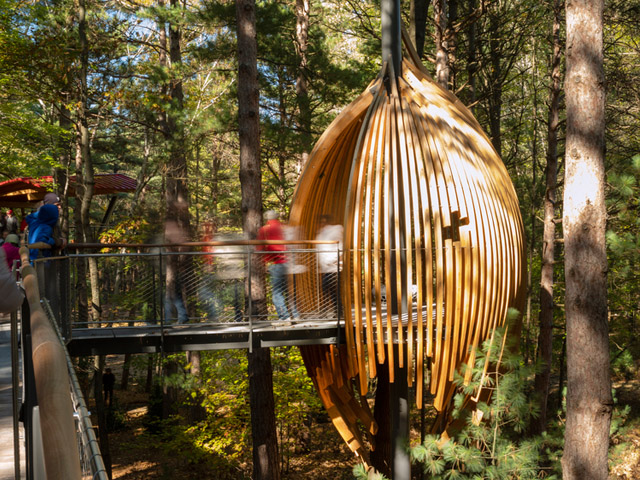 Designed by Philadelphia-based firm Metcalfe, Whiting Forest of Dow Gardens is located in Midland, Michigan. Opened in late 2018 as a complement to the Dow Gardens complex, first established in 1899 by Herbert H Dow, the new nature-play-based project is comprised of a dynamic network of bridges, paths, and tree canopy walkways that are populated with engaging gathering points and interactive features.
Metcalfe's design offers a close-up, four-season experience of the 54-acre forest of native northern pine from a variety of unexpected vantage points. On the journey through the woods, visitors encounter a series of "right-brained" experiences involving a progression of open fields and dark forests. People are not constrained to staying on trails; the more they wander, the closer they get to nature and opportunities for introspection.
The 427-metre-long tree canopy walk - the longest in the country - is the central attraction of the forest. With three "arms" winding over a pond and apple orchards and through the forest, the canopy walk provides a one-of-a-kind vantage point from 12m above the ground that draws visitors through the woodland.
Along the walk, expansive cargo nets stretched between trees create places for visitors to walk, jump and sprawl safely while over the forest floor. Walk-in slatted-wood pavilions in abstracted forms of nests and pods offer shelter and act as settings for reflection, discussion, and observation.
Other features on the site include a new 1263sqm playground with a sandy beach, flowing water, and child-scaled play structures; Visitor Centre, a restored and repurposed midcentury residence by architect Alden B Dow; Whiting Forest Café; amphitheatre; and Forest Classroom, a facility for hosting workshops, seminars, programs and two steel bridges.
This active, participatory environment is an architectural antidote to the over-reliance on virtual, screen-centric life that people today typically experience. In a world of technology that sometimes makes people more divided, Metcalfe works to design places that bring communities together outdoors and in nature for purposeful interaction. Whiting Forest of Dow Gardens is a prime example of that philosophy.
,
Images © Nic Lehoux via ArchDaily
SEARCH
SUBSCRIBE TO ENEWS
MORE NEWS
GREENSPACES A KEY CONCEPT IN MEGACITY DESIGN
A LABOUR OF LOVE | Q&A WITH PTA LANDSCAPES
ENTERPRIZE PARK SLATED FOR UPGRADE
AN ENCHANTED COMMUNITY DISTRICT IN THE FOREST
WHY SHOULD YOU JOIN LANDSCAPING VICTORIA MASTER LANDSCAPERS?
#EACHFOREQUAL WITH WOMEN IN LANDSCAPING