AMBER HAS THE ANSWER
23 May 2012
Amber's answers to trends - it's a whiter shade of pale.
Amber says it's a whiter shade of pale - out with the bold and in with the soft, subtle, sophisticated hues.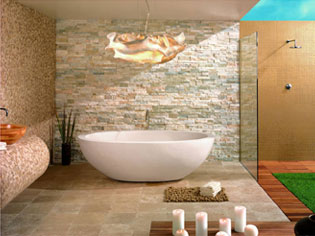 It's back to the future for indoors and out with those in the know giving the flick to bright colours and moving to more sophisticated and subtle hues.
The muted tones of grey and beige are the new must-have look providing a warm and inviting atmosphere in homes and entertaining areas.
Large format tiles in the new colours are sweeping through modern homes with savvy buyers selecting furniture to match, bringing a simplistic yet sophisticated feel to their interior world.
Indoor Products Manager and Pool Tile Specialist Kate Lane from Amber has just returned from the Mediterranean with the inside scoop on what is making it into homes at the forefront of fashion trends.
"The deep browns, red, oranges of the past are making way for a more simplistic and subtle look," Kate said.
"There is a definite trend already away from bright and showy tiles with astute builders and buyers looking for the perfect blend of sophistication and warmth."
Kate said the move towards pastels and muted tones was a great option for those on a budget.
"Amber TIles has some fantastic natural stone tiles in line with the new trend, but we also have some excellent budget options like the Volcanic series," she said. "You won't lose out if you go the budget option with the Volcanic series providing a fantastic look at a great price.
"However, if you do want the very best in floor tiles, our new cashmere range will soon be appearing in store. This marble stone tile is stunning and really is the pinnacle of the new trend."
Amber has the answer - with the latest inside knowledge on new trends.
Visit: www.ambertiles.com.au
SEARCH
SUBSCRIBE TO ENEWS
MORE NEWS
BENEFITS OF TRAVERTINE PAVERS
HIGRIP™ ANTI-SKID SURFACING
$2 MILLION TILE TENDER
ROAD RECONSTRUCTION INNOVATION
QUALITY SURFACES FROM MPS PAVING
SUSTAINABLE BRICK CREATES A NEW FOUNDATION