ALLAN CORREY (AILDM PATRON 1994-2012)
10 May 2016
On 3 May 2016 the landscape industry learnt of the passing of AILDM's Founding Patron, Allan Correy. Allan was a pioneer in the industry and made a significant impact on landscape design in Australia.
It is with sadness that the landscape industry acknowledges the passing of Landscape Architect Allan Correy.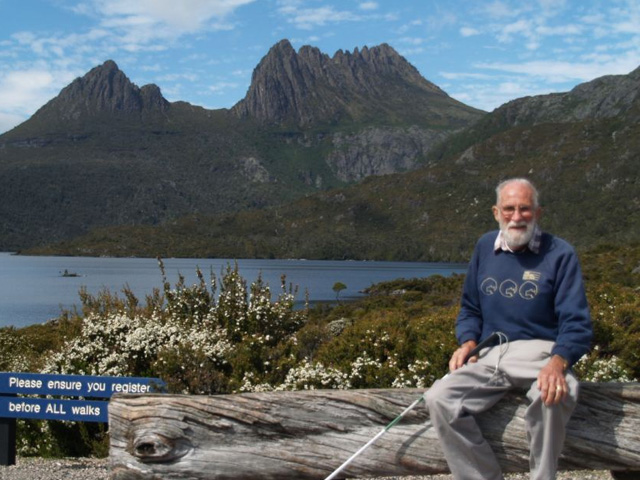 Allan Correy, AILDM Patron 1994 – 2012, was a pioneer in the industry and made a significant and lasting impact on landscape design in Australia. Despite failing eyesight and health in recent years Allan retained his passion for the industry and AILDM, only relinquishing his duties as Patron in 2012 when he was no longer able to fulfil them as he wished to.
His passing is a great loss to the industry. The tributes pouring in since news of Allan's passing broke are a testament to a good man and a respected Landscape Architect.
AILDM | The Beginning
The first seeds for AILDM were planted in May 1993, when a group of Applied Science (Landscape) students at Charlestown TAFE met to discuss their idea for a professional body to support graduates of their course. Over the next two years, they spent many hundreds of hours in Convening and Steering Committees as they built support for the association.
The Institute was finally incorporated as a public company on 29 July 1994. Allan Correy, a foundation member of the Landscape Architects' Institute and a lecturer in Landscape Architecture at Sydney University, agreed to be Patron of the Institute and the Sydney Chapter was officially inaugurated.
Allan Correy (AILDM Patron 1994-2012)
Allan Correy is one of a handful of landscape architects who trained overseas in England and America in the 1950s, and returned to be one of Australia's landscape architecture pioneers.
He gained practical experience as a gardener at the Sydney Botanic Garden before moving overseas, and on his return to Australia in 1961 became the first landscape architect appointed in South Australia. There he designed a new botanic garden at Mt Lofty near Adelaide.
Between 1961 and 1967 Allan practised widely in SA experimenting with both an ecological and modernist approach. For the Mt Lofty Botanic Garden Masterplan, he applied systematic ecological planning for the first time in Australia and used the overlay mapping techniques learned from Brian Hackett in England and Ian McHarg in America to inform the design.
His geometric design for the Sculpture Court of the National Gallery of South Australia took a modernist approach, as did his stylised mounds for the forecourt, carport and entry to the Highways Department Building.
In private practice Allan designed domestic gardens using recycled building materials, ground modelling, local stone, native trees and mass shrubs and groundcover to create places that soothe the human psyche and celebrate nature.
Allan returned to Sydney in 1967 to head the new Landscape Section of the Government Architect's Branch of the Public Works Department heralding the beginning of landscape architecture in the public domain in NSW. Work from this period set new standards for the profession and included the Australian Section of Taronga Zoo. This project marked the introduction of a sophisticated level of detailing, unusual in the public domain of the time.
Allan did not restrict his interests to design. His later work in the public domain helped to build a framework for environmentally responsible site evaluation and impact assessment as an essential part of landscape architecture. He has applied his knowledge to teaching, writing and speaking, thereby contributing to landscape architecture in an all embracing way.
AILDM was very proud to have Allan as its Patron.
SEARCH
SUBSCRIBE TO ENEWS
MORE NEWS
PLA CONFERENCE GOES VIRTUAL
HOT OFF THE PRESSES, THE SPRING EDITION OF PLA JOURNAL IS OUT NOW
TRANSFORM DESIGN WORKFLOWS WITH VECTORWORKS® LANDMARK
PLA NATIONAL CONFERENCE GOES VIRTUAL
SETTING MELBOURNE ON FIRE
GET YOUR AUTUMN EDITION OF THE PLA JOURNAL NOW