AILDM NATIONAL LANDSCAPE DESIGN AWARDS 2018
13 Sep 2018
AILDM has announced the winners for the 2018 National Landscape Design Awards, which showcase the best talent and landscape designs across the country. Read the full list of winners here.
Within the dramatic sandstone walls of the National Art School, Sydney, a beautiful Spring theme was set by The Australian Institute of Landscape Designers and Managers (AILDM) for their annual awards ceremony.
These are the National Landscape Design Awards that bring together the best talent in Australia. Brendan Moar hosted the evening, sharing his passion for landscapes, gardens and the importance of good landscape design. Brendan is a landscape architect, author and television personality. He presented with humour and passion and spoke of the value of landscape designers in inspiring everyone to venture outside and embrace the landscape.
AILDM President, Craig McDonald, warmly greeted everyone on the night, and spoke of the importance of inspiration in our lives, and encouraged all members to inspire the next generation of Landscape Designers.
The design competition attracted a diverse range of entries. All members are encouraged to enter and it was delightful to see awards presented to some of AILDM's newest members in addition to the more established landscape designers.
Award winning designs ranged from small courtyards to large rural properties, rooftop gardens, amazing plantscapes and public spaces.
By engaging with communities for commercial and public spaces, some very innovative solutions were awarded for landscape design for public parks, playgrounds, schools, and previously neglected community parks.
Three panels of judges from around Australia, with expertise in the industry, assessed the entries and, based on accumulated points, awarded either Gold or Silver. The highest scoring entry for each category received a 'Best in Category' Award.
In addition, AILDM presented the Allan Correy Trophy, which is an award in honour of the founding patron, Allan Correy.
The recipient for this award is an individual or design firm whose hard work aligns with Allan Correy's vision to promote the value of the environment and the landscape design industry, through their work and outside of their own commercial interests.
This year, the Allan Correy Award was presented to Fiona Ericsson and Julia Levitt of Sticks & Stones Landscape Design, by former AILDM President, Adrian Swain.
In presenting the award, Adrian stated that Fiona and Julia had been actively involved in the landscape design industry on a continual basis while nurturing a new business into an award-winning landscape design studio.
This year, in recognition of his great contribution to AILDM and the landscape design industry over many years, it was with great pleasure that Adrian Swain was appointed as a Fellow of AILDM.
The award winners are as follows:
CATEGORY 1 | LANDSCAPE DESIGN – ROOFTOP
SILVER AWARD Outdoor Designs – Alison Watson
GOLD AWARD Adam Robinson Design – Adam Robinson
GOLD & BEST IN CATEGORY AWARD Outhouse Design – Steve Warner
CATEGORY 2 | LANDSCAPE DESIGN – BALCONY OR ALFRESCO
GOLD AWARD Adam Robinson Design – Adam Robinson
GOLD & BEST IN CATEGORY AWARD Outhouse Design – Steve Warner & Larissa Carpenter
CATEGORY 3 | RESIDENTIAL LANDSCAPE DESIGN LESS THAN 50M2
GOLD AWARD Inspired Exteriors – Charlie Albone
GOLD & BEST IN CATEGORY AWARD Adam Robinson Design – Adam Robinson
CATGORY 4 | RESIDENTIAL LANDSCAPE DESIGN 50M2–150M2
SILVER AWARDS
Adam Robinson Design – Adam Robinson
Valley Garden Landscapes – Alex Haskey & Jason Yi-Kai Chuang
Formation Landscapes – Chris Weiss
GOLD AWARD MUD Landscape Design – Mark Tisdell
GOLD & BEST IN CATEGORY AWARD COS Design – Steve Taylor
CATEGORY 5 – RESIDENTIAL LANDSCAPE DESIGN MORE THAN 150M2
SILVER AWARDS
C.O.S Design – Steve Taylor, Dean Ave project
dsb Landscape Architects – Adam Barker
GOLD AWARDS
Adam Robinson Design – Adam Robinson
Springgreen Landscapes – Jean-Clement Printemps
Utopia Landscape Design – Aaron Worth
COS Design – Steve Taylor, Devon Street project
COS Design – Steve Taylor, Lockhart Street project
MUD Landscape Design – Mark Tisdell
GOLD & BEST IN CATEGORY AWARD Impressions Landscape-Design – Adam McDonald
CATEGORY 6 – LANDSCAPE DESIGN RURAL/COASTAL
GOLD & BEST IN CATEGORY AWARD Sticks & Stones Landscape Design – Julia Levitt
CATEGORY 7 – MASTER PLANNING
GOLD & BEST IN CATEGORY AWARD Outhouse Design – Steve Warner & Larissa Carpenter
CATEGORY 8 – LANDSCAPE DESIGN COMMERCIAL OPEN SPACE
GOLD AWARDS
Inview Design – Melissa McGeorge & Isabel Lester
JW Concepts – Jonathan Weinert
GOLD & BEST IN CATEGORY AWARD Sticks & Stones Landscape Design – Julia Levitt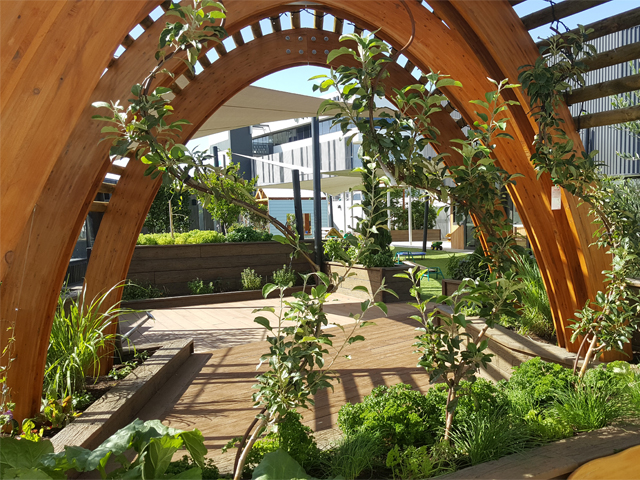 CATEGORY 9 – LANDSCAPE DESIGN EDUCATIONAL/INSTITUTIONAL/PLAYSPACE
GOLD AWARDS
Outhouse Design – Steve Warner & Larissa Carpenter, Best Western Haven Hotel project
Outhouse Design – Steve Warner & Katrine Mardini, Stockland Enchanted Forest project
Inspired Exteriors – Charlie Albone
BLUE Landscape Architects – Brendan Barmby, Centre Road Project
BLUE Landscape Architects – Brendan Barmby, Archer Way Project
Outdoor Designs – Alison Watson
MUD Landscape Design – Mark Tisdell
RB Landscapes – Richard Bellemo
GOLD & BEST IN CATEGORY AWARD Botanical Traditions – Ruth Czermak
CATEGORY 10 – PLANTSCAPE DESIGN
SILVER AWARD Impressions Landscape Design – Adam McDonald, Woolooware Project
GOLD & BEST IN CATEGORY AWARD Sticks & Stones Landscape Design – Julia Levitt
SEARCH
SUBSCRIBE TO ENEWS
MORE NEWS
FLOATING GARDEN MASTERPLAN
URBAN FARM TO FEED SYDNEY'S DWINDLING FOOD BOWL
BROOKLYN BRIDGE BROUGHT TO LIFE
BUTTER FACTORY TRANSFORMS INTO ARTS HUB
SYDNEY PUBLIC SPACES IDEAS COMPETITION
WHY CONSTRUCTION TEAMS SHOULD EMBRACE AI AND AUTOMATION