A NEW FACE FOR FACEBOOK HQ
13 Sep 2018
Featuring an expansive rooftop garden, a redwood forest courtyard and a botanical amphitheatre, Facebook has revealed its new campus design, which forms part of its colossal $1 Billion expansion plan. Designed by renowned architect, Frank Gehry, the building aims to promote teamwork and personal wellbeing in a sustainable and open environment.
Taking only 18 months to complete, the new expansion for Facebook's Menlo Park headquarters was revealed to the public on September 4, 2018. Called MPK 21, the complex holds up to 3000 employees and acts as a sister building to the original MPK 20 headquarters that were opened in 2015. Architect Frank Gehry took inspiration from the first building to inform his development of the second, in order to create a blended campus that is designed specifically for the lifestyle of Facebook.
"All the things we learned doing building 20, prepared us for 21," Gehry said. "We were getting lessons in Facebook culture and we're making a new kind of architecture within that culture."
MPK 21 connects to its predecessor through a sunken garden, named The Bowl, which is wrapped in terraced seating and tropical plants. The Bowl is just one of many flexible working spaces for Facebook employees and showcases how the campus is creating a workplace with a difference.
A major unique component of MKP 21 is the sawtooth roof that was designed to allow for plenty of natural light to filter through the interior of the building, creating a naturally bright and engaging space for employees. A central courtyard creates a 'town square' for the Facebook headquarters and includes restaurants, cafes, amenities and a forest of redwood trees, which bring life and colour to the space.
A 'main street' circulates through the centre, providing easy access to five dining options and 15 art installations that were commissioned by Facebook's Artist in Residence program. The street will also lead to a 2000-seat events and entertainment zone that is yet to be completed, which will feature big Facebook events and activities.
Still in the working stages of the campus are an elevated pedestrian and bike pathway that will sit over the Bayfront Expressway and an 8000 square metre park, complete with a public plaza and an events precinct, that aims to also be completed in 2019. The park will host festivals, a farmers' market and local programs.
"As we add offices in other cities in the bay area, we remain invested in Menlo Park, which will be our headquarters for the foreseeable future," said John Tenanes, Facebook's VP for Global Facilities and Real Estate. "It was important to us that MPK 21, which sits on a former unoccupied industrial site, be consistent with the natural environment and our neighbouring communities."
Gehry designed the building to seamlessly blend into the surrounding space. He wanted for employees to be able to find their own sense of place within the campus and to be able to enjoy a wide variety of amenities and benefits, including plenty of greenspaces, light and public facilities.
"I feel like we're not turning our back on the neighbourhood, we're talking to the architecture of the neighbourhood, so it feels like it belongs here," Gehry said.
A key focus of the campus was to ensure it was sustainable, with the aim to achieve a Platinum certification for Leadership in Energy and Environmental Design. The precinct features a water recycling system that will save around 64 million litres of water annually, photovoltaic solar roof panels that will generate 2 million kWh of electricity per year, and extensive bird-friendly glazed windows that provide pristine views and natural lighting, which reduces the need for electric lighting, all to minimise the building's carbon footprint.
The building was designed in order to promote teamwork and create a place that enourages staff to work to their full potential. A mixture of open and secluded workspaces encourage both collabroative teamwork and focused individual work. Flexible work stations and a multitude of outdoor spaces allow for employees to be consistently engaged in their work and in the world around them.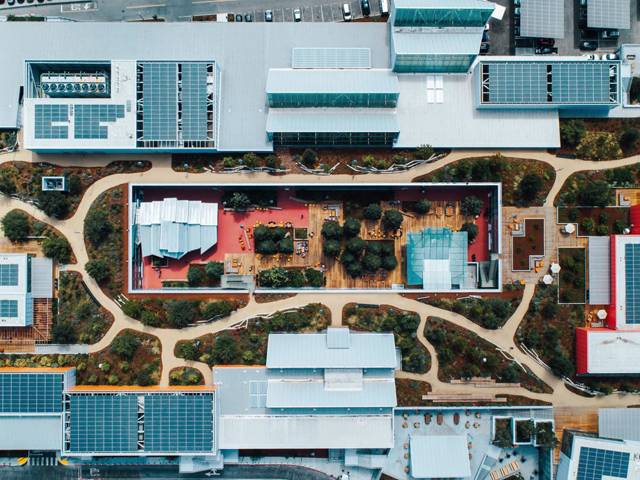 Gehry also had the opportunity to design Facebook's London and Instagram headquarters.
"I love being an architect," Gehry concluded about the project. "It's a pain in the ass sometimes but, every once in a while, you meet clients like Facebook and great things happen."
SEARCH
SUBSCRIBE TO ENEWS
MORE NEWS
LET IT RAIN
A CELEBRATION OF COLOUR
URBAN MOUNTAIN RISES UP
AN INVESTMENT IN CULTURAL CAPITAL
TWO IN ONE
CHINA ENVISIONS AN ECOLOGICAL FUTURE