A MUSEUM OF CULTURAL IMPORTANCE
29 Jan 2020
Herzog & de Meuron's winning design for the new museum complex in Hangzhou, China, will reflect the importance of the adjacent Grand Canal's importance from a cultural and natural perspective while creating a vibrant community locale.
The new museum complex in Hangzhou sits at the junction of China's grand canal and Hanggang River. The winning design was selected unanimously ahead of entries by David Chipperfield Architects and Zaha Hadid Architects. Herzog & de Meuron's design aims to reflect the canal's importance in Chinese cultural and natural landscapes while creating a vibrant and contemporary place of gathering.
Herzog & de Meuron's scheme, which was first unveiled by Hochparterre, is the result of an international competition launched by the Hangzhou Canal Preservation & Development Construction Group Co. Ltd. As the site is surrounded by water on three sides, the architects elected to elevate the museum building by 12 metres, thus creating extra covered and shaded public space. Internally, the vast exhibition area is organised on two identical floors that can operate independently.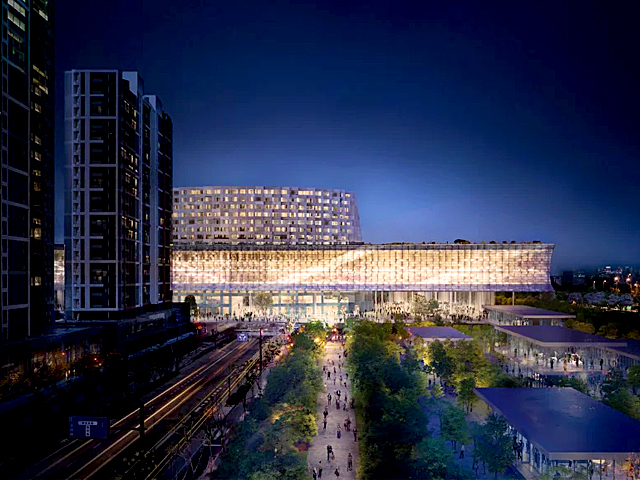 The Grand Canal Museum is anchored by a large mountain-shaped conference centre-hotel complex on the east side of the plot, facing the Grand Canal and connecting to the city with its proximity to the main road. According to the design team, this setting embodies "water in the front, mountain in the back" — a classic Chinese ideal of harmonious integration of people, buildings and their natural environment.
Via designboom | Images © Herzog & de Meuron
SEARCH
SUBSCRIBE TO ENEWS
MORE NEWS
TREEHOUSE SCHOOL FOR POST-COVID LEARNING
UPPER AUSTRALIA
LANDSCAPES GOOD ENOUGH TO EAT
ELEPHANT WORLD CULTURAL COURTYARD
TIMBER CAR CHARGING STATIONS CREATE REST
PERTH WELCOMES NEW $695M UNIVERSITY CAMPUS