A LABOUR OF LOVE | Q&A WITH PTA LANDSCAPES
21 Apr 2020
A combination of love for construction and the outdoors drives both Andrew Wilson and Dion Loncar, co-directors of PTA Landscapes, to create and develop inspiring external spaces. ODS chats with the duo about their careers in landscaping and their construction philosophies.
PTA Landscapes is a full-service landscape company that delivers a diverse range of projects for commercial, residential and educational clients. A leader in the landscape industry, PTA Landscapes is committed to delivering premium projects of the highest quality for long term durability.
With over 35 years' experience, the team of professionals at PTA Landscapes pride themselves on implementing creative solutions in response to design challenges presented by clients. Overseen by directors Dion Loncar (DL) and Andrew Wilson (AW), the highly skilled team are transforming Australian landscapes one site at a time.
HOW DID YOU GET YOUR START?
AW: Growing up, I had a love for nature and the outdoors. My father was a builder, so I had the construction bug from an early age. After finishing high school, I completed my Diploma of Horticulture before working for a Melbourne-based residential landscape company, developing my construction knowledge and refining my horticultural skill set. Next, I took a management position at PTA Landscapes and completed my Diploma of Project Management. I was soon elevated within the company, becoming joint director in 2015.
DL: A love of the great outdoors sparked my interest. The abundance of different materials and the way they could be used enticed me into landscaping. I started out as a labourer for a residential landscape company in Sydney, before furthering my skills and knowledge by completing a Diploma in Landscape Design. As my hunger for construction grew, I completed a Diploma in Building, opening up more doors within the industry. This led me to move to Melbourne as Construction Manager at PTA Landscapes before being offered the role as co-director.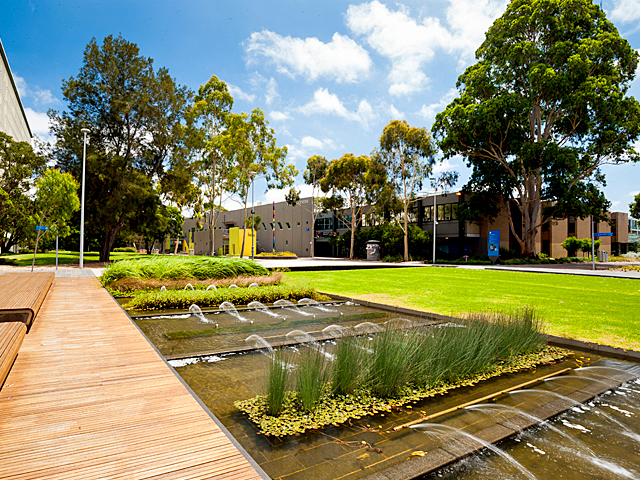 WHAT IS YOUR DESIGN & CONSTRUCTION PHILOSOPHY?
AW: It all starts with an accurate client brief and an understanding of the site, its constraints and opportunities. This leads to the development of a thoughtful, considered and realistic design that allows for the creation of practical and flexible landscape spaces. Careful material selection and placement is paramount, whether this be selecting the right paving type, feature location or plants. The design then comes together in the construction phase, during which we ensure a high level of workmanship and quality control to deliver a well-built, long-lasting sustainable landscape.
HOW DO YOU ENSURE A GOOD RESULT?
DL: Proper planning is of utmost importance. A clear path forward sets the tone for a successful project and, as Andrew said, material selection is key. Each element and treatment, and the way they work together, is crucial in delivering a quality finish. The right design, along with clear and concise documentation, is also imperative, as is the right construction crew and excellent project management. The importance of the latter really cannot be overstated.
HOW IMPORTANT IS COMMUNICATION?
DL: Clear and open two-way communication is extremely important and is the conduit to understanding a client's expectations and managing the outcomes. Regular site meetings need to be undertaken throughout the design, quoting and construction period to provide updates and ensure everyone is on the same page.
WHAT ARE SOME CAREER HIGHLIGHTS?
AW: Our success at the 2019 Melbourne International Flower & Garden Show, where we won all four major awards as well as winning the 2019 Victorian Commercial Landscape of the Year for the Monash Forum Project were massive achievements, not only personally, but for the entire team.
We are passionate and aspire to excellence in work and life, being directors of a company that employs a fantastic and dedicated group of people while delivering a wide range of quality landscape projects brings us great satisfaction.
Contact PTA Landscapes via the links below to discuss your upcoming landscaping projects with the experienced, award-winning team.
SEARCH
SUBSCRIBE TO ENEWS
MORE NEWS
WHY SHOULD YOU JOIN LANDSCAPING VICTORIA MASTER LANDSCAPERS?
WINNERS ANNOUNCED FOR AILA NSW, ACT, VIC AND QLD AWARDS
#EACHFOREQUAL WITH WOMEN IN LANDSCAPING
AN ENCHANTED COMMUNITY DISTRICT IN THE FOREST
2020 NSW LANDSCAPE ARCHITECTURE AWARD WINNERS ANNOUNCED
GREENSPACES A KEY CONCEPT IN MEGACITY DESIGN