A GOLDEN SHOPPING OPPORTUNITY AT SWEDISH EMPORIA
20 Nov 2013
New shopping complex in Sweden draws in significant crowds thanks to its golden chasm design.
A gigantic golden chasm marks the entry point to Emporia in Malmö by Swedish architects Wingårdhs, which won the best Shopping Complex at the 2013 Inside Festival and the 2013 World Architecture Awards.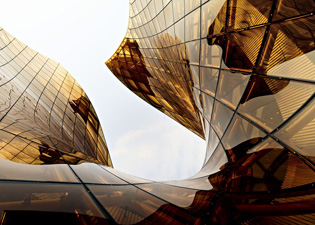 Located to the south of the city in Hyllie, the Emporia shopping centre is Wingårdhs' first realised building from a competition-winning masterplan of proposed housing and office blocks.
Joakim Lyth one of the project's architects said "the coloured glass goes through the whole of the building and different colours are used in different circulation hubs. One of the problems with a shopping centre is that they're usually quite hard to find your way around. So using strong colours, giving a strong atmosphere and identity to different hubs seemed like a reasonable idea."
The retail space is organised around a three-storey figure eight shape with shops grouped together around boldly coloured atriums. On the north side of the complex, a ramp leads into a rainbow-coloured parking garage (for 2500 cars).
Lyth said "the main idea of our winning competition entry was to hide inward-looking retail behind a wreath of residential and commercial buildings. The whole shopping complex would thereby eventually become integrated into the fabric of the city."
The building also features a publicly accessible roof with a faceted landscape made up of lawns, terraces and pavilions, which will eventually include outdoor dining and a spa facility.
Emporia also includes a quantity of art, seldom seen in a commercial environment. A lighting installation (ninety-nine bollards) by Petteri Nisunen and Tommi Grönlund lifts the Amber Entrance, as well as bronze sculptures by Joep van Lieshout and a glass art piece (4 x 81 m) by Silja Rantanen adorn the blue back Entrance. There is also a line painting on film at an extremely outsized format (20 x 114 m) by Per Mårtensson which clads the façade of the parking garage.
Despite the large number of shopping centres in the area, Emporia has had no problems standing out, already drawing significant crowds.
SEARCH
SUBSCRIBE TO ENEWS
MORE NEWS
TIMBER CAR CHARGING STATIONS CREATE REST
LANDSCAPES GOOD ENOUGH TO EAT
UPPER AUSTRALIA
TREEHOUSE SCHOOL FOR POST-COVID LEARNING
ELEPHANT WORLD CULTURAL COURTYARD
PERTH WELCOMES NEW $695M UNIVERSITY CAMPUS