2018 VIC LANDSCAPE ARCHITECTURE AWARD WINNERS
23 Aug 2018
Choosing a selection of winners from the extensive range of innovative landscape designs was a challenge for the jury of the 2018 AILA VIC Landscape Architecture Awards, thanks to the incredible talent displayed. Find out who won here.
Pride of Melton | Outlines Landscape Architecture
The winners for the Australian Institute of Landscape Architects' (AILA) 2018 VIC Landscape Architecture Awards were announced Friday 10 August in Melbourne. From a cycling trail to a national park masterplan, the awards covered everything the Australian landscape architecture industry has to offer.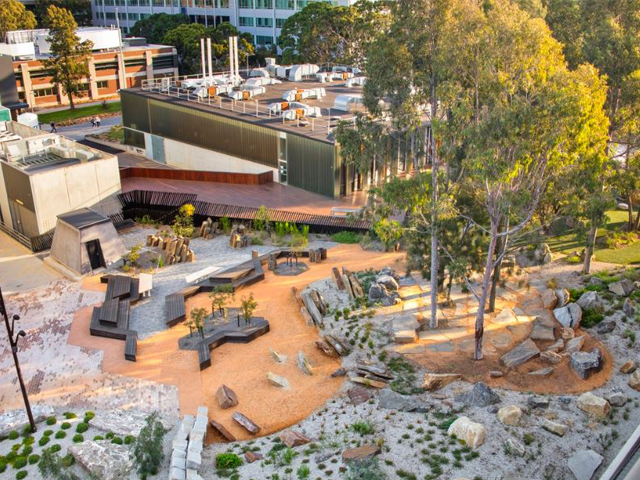 Earth Sciences Garden, Monash University | Rush Wright Associates
"The rejuvenation of public and private spaces and a move towards integrated green infrastructure demonstrates the role that landscape architecture has in sustaining human health and well-being and the liveability of Melbourne," explained AILA Victorian Chapter president, Adrian Gray. "The awards are a great way to recognise the outstanding projects in our state and their contribution to the public and respective communities."
Geelong Laneways Precinct | Outlines Landscape Architecture
Jury chair, Bronwen Hamilton stated that this year's entries, "Demonstrated not only the maturity of the profession but also investment in high-quality strategic and landscape design-led projects."
This year's jury included Bronwen Hamilton (manager for Victorian Design Review Pane,; Morag Ritchie (landscape architect in Campus Planning & Design at the University of Melbourne), Holly Hein (landscape architect at Playce and lecturer at RMIT University), Ben Kronenberg (senior landscape architect at Openwork) and Jocelyn Chiew (registered architect, landscape architect and urban designer at Monash University).
Skeleton Creek Bridges | Site Office
The projects that received Awards of Excellence and Landscape Architecture Awards will proceed to the National Awards with winners to be announced on Thursday 11 October as part of 2018's International Festival of Landscape Architecture.
Booran Reserve Playspace | ACLA Consultants
This year's projects included a variety that emphasised public space and community activity and engagement. "We are fortunate to recognise an array of projects that enhance public spaces, engage with the community and exemplify enduring design," Hamilton continued.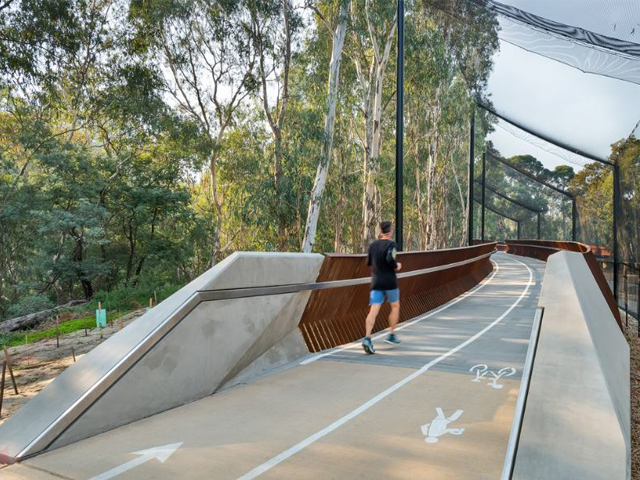 Darebin Yarra Trail Link | VicRoads Urban Design Team and VicRoads Structural Design Team
The award winners are as follows:
CIVIC LANDSCAPE
Landscape Architecture Awards
MADA West Courtyard | Glas Landscape Architects
Pride of Melton | Outlines Landscape Architecture
Dawson Street Precinct Sunshine | Fitzgerald Frisby Landscape Architecture
COMMUNITY CONTRIBUTION
Landscape Architecture Award
Livvi's Place Craigieburn | Aspect Studios
CULTURAL HERITAGE
Award of Excellence
Point Nepean National Park Master Plan | TCL (Taylor Cullity Lethlean) and Parks Victoria
GARDENS
Award of Excellence
Earth Sciences Garden, Monash University | Rush Wright Associates
Landscape Architecture Awards
MPavilion 2017 | Tract Consultants
Victorian Comprehensive Cancer Centre | Rush Wright Associates
INFRASTRUCTURE
Award of Excellence
Darebin Yarra Trail Link | VicRoads Urban Design Team and VicRoads Structural Design Team
Landscape Architecture Award
Skeleton Creek Bridges | Site Office
LAND MANAGEMENT
Landscape Architecture Awards
The System Garden Masterplan | Glas Landscape Architects
LANDSCAPE PLANNING
Award of Excellence
Chain of Ponds – An Action Plan for Moonee Ponds Creek | Site Office
Landscape Architecture Awards
Puffing Billy Master Plan | Tract Consultants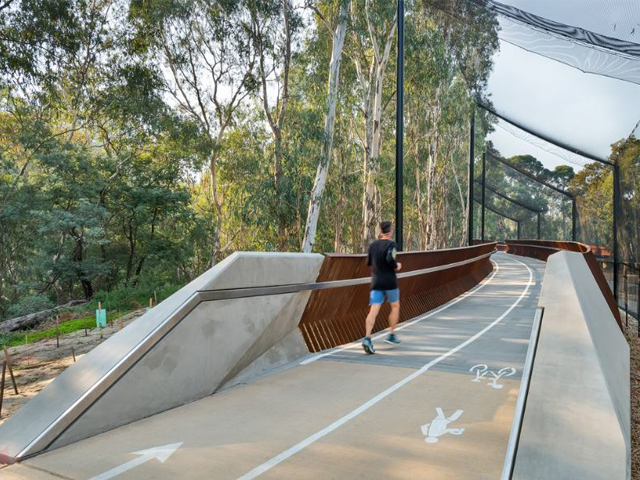 PLAYSPACES
Landscape Architecture Award
Ballam Bumps Regional Playspace | Playce
Booran Reserve Playspace | ACLA Consultants
Mirambeena Park, Warralily, Armstrong Creek | GbLA
Parks and Open Space
Award of Excellence
Alpine Better Places: Porepunkah | MDG Landscape Architects
Landscape Architecture Award
Williams Reserve, Richmond | Hansen Partnership
RESEARCH POLICY AND COMMUNICATIONS
Award of Excellence
Urban Choreography: Central Melbourne 1985-, by Kim Dovey, Rob Adams and Ronald Jones (Melbourne University Press, 2018) | Jones & Whitehead Pty Ltd with City of Melbourne and the University of Melbourne
Landscape Architecture Awards
Monash University – Civil Engineering Hydraulics 'Living Lab' | Aspect Studios
Embracing the Asian Century, Landscape Architecture Australia | Jillian Walliss, Heike Rahmann, Ricky Ray Ricardo
SMALL PROJECTS
Award of Excellence
Immigration Museum Activation Project | Rush Wright Associates
Landscape Architecture Awards
Tarrawarra Abbey | Aspect Studios
Valley Lake Lookout | McGregor Coxall
TOURISM
Award of Excellence
Carnivores Trail (Predators Precinct) | Urban Initiatives
Landscape Architecture Award
Falls to Hotham Alpine Crossing Master Plan | Mcgregor Coxall
URBAN DESIGN
Award of Excellence
Victoria Square, Kerang | Hansen Partnership
Landscape Architecture Awards
Geelong Laneways Precinct | Outlines Landscape Architecture
FUTURE LEADER
Commendation
Timothy D'Agostino | Aspect Studios
President's Award
Anne-Marie Pisani
SEARCH
SUBSCRIBE TO ENEWS
MORE NEWS
LANDSCAPES GOOD ENOUGH TO EAT
TREEHOUSE SCHOOL FOR POST-COVID LEARNING
ELEPHANT WORLD CULTURAL COURTYARD
PERTH WELCOMES NEW $695M UNIVERSITY CAMPUS
TIMBER CAR CHARGING STATIONS CREATE REST
UPPER AUSTRALIA