WATERPLAY FROM MARCUS CONSTRUCTIONS
19 Nov 2020
Installed by Marcus Constructions, the Forest Fountain range brings a universal appeal to children everywhere with its water play equipment.
A family-owned business, Marcus Constructions have been expertly transforming playscapes into unforgettable spaces for visitors for over 20 years. Partnering with Richter Spielgeräte, Marcus Constructions work to deliver the eye-catching Forest Fountain range to playscapes across Australia.
Streams and creeks offer a beautiful and natural place for kids to play, but it can be difficult to have this occur naturally in a playspace. By considering all the possibilities of waterplay, Richter Spielgeräte have created a unique water source for kids of all ages to play with.
As water is one of the elements children are particularly drawn to, the Forest Fountain range offers special appeal. Providing fascination at the cascading water effect, along with the cooling opportunities presented by falling water, the fountains produce a unique aesthetic for every playspace and allow children to experience a wide range of spatial and sensory effects.
Perfect for school children, public play areas and swimming pools, the Forest Fountain range is delivered exclusively in Australia from Marcus Constructions.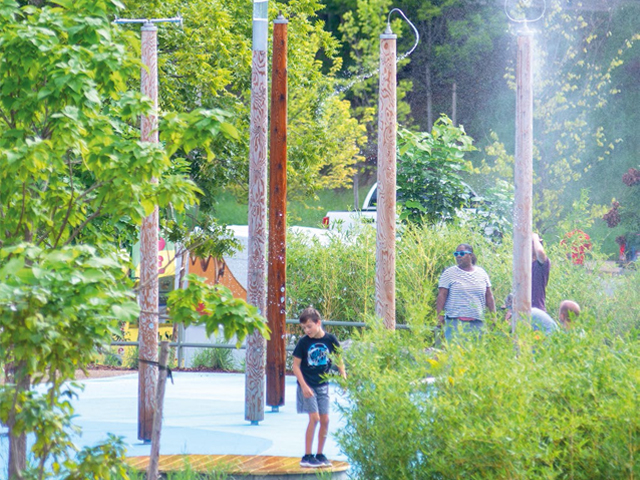 To find out more about the Forest Fountain range from Marcus Constructions, click on the links below.
SEARCH
SUBSCRIBE TO ENEWS
MORE NEWS
RICHTER PLAYSPACE ARRIVES IN TASMANIA
NATURAL TIMBER PLAY STRUCTURES
BOAT-THEMED PLAYGROUND BY THE RIVER
WETPOUR RUBBER FLOORING AT WINTON WETLANDS
NATIVE PLAY
PLAY AND FITNESS EQUIPMENT YOU CAN TRUST