WASTE NOT WANT NOT
21 Oct 2012
If they build a house made of waste, will anyone buy it? British architect Duncan Baker-Brown is putting that crazy idea to the test.
If they build a house made of waste, will anyone buy it? British architect Duncan Baker-Brown is putting that idea to the test.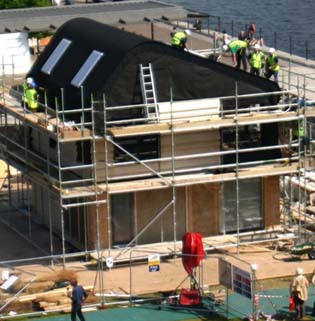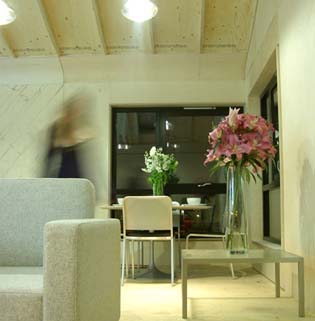 Article from http://www.takepart.com/article/2012/10/04/if-they-build-house-made-waste-will-anyone-buy-it
Back in 2008, an editorial in The Seattle Times posed a very logical question: "We recycle cans, bottles and even plastic bags, so why not reuse older buildings?"
Now, British architect Duncan Baker-Brown, of the firm BBM, is providing an example of how this might happen. He's designed a building made entirely out of waste and surplus material from local building sites and other local industries that will be built on the University of Brighton's campus.
"The walls will be made of waste timber products. Ply 'cassettes' containing waste material will be slotted in between the timber structure. These cassettes will be removable so that new building technologies can be added easily," reports The Guardian. The building will also feature fully integrated solar panels, whole-house ventilation, and a heat recovery system.
They go on to quote Baker-Brown who says, "There is a huge pile of construction waste that's building up in this country and to ignore is quite frankly sinful . . . Through this project we are going to show that there is no such thing as waste."
Grist adds that Baker-Duncan "is vehement about the idea that trash doesn't exist. Or rather, it's not really trash—it's just material that needs to be relocated." And they observe that this isn't the first building of its kind that the architect has constructed.
In 2008, working in collaboration with Talkback Thames TV and Kevin McCloud, who is the writer and host of a television show called Grand Designs, Duncan-Baker built a show house of sorts outside the ExCel exhibition and convention center in London's Docklands. Called, 'The House that Kevin Built,' the premise was to design and construct a sustainable house, live on television over a period of six days, using locally sourced, replenishable waste materials.
The house was dismantled at the end of the show and later re-erected at the Building Research Establishment's Innovations Park. (BRE is a research-based consultancy, testing, and training organization.) You can see some cool in-progress shots of the construction and a video about the project here, courtesy of the University of Brighton website.
Writing last month about his current project on the University's website, Baker-Brown said, "We have decided to focus on how to reuse waste material on a real-life building for a number of reasons, not least because we know how important it is to reuse and recycle from the point of view of the environment."
And in keeping with the importance of spreading the word and encouraging community involvement, Grist notes that, "No one will be surprised to know that students, apprentices, local builders and schoolchildren are going to be involved in the construction of this place."
So we're talking good for the environment and fun for all.
Article by Lawrence Karol.
Lawrence Karol is a writer and editor who lives with his dog, Mike. He is a former Gourmet staffer and enjoys writing about design, food, travel and lots of other stuff.
Images of The House that Kevin Built.
SEARCH
SUBSCRIBE TO ENEWS
MORE NEWS
3 INDICATORS OF AN EFFECTIVE OUTDOOR PLAY SPACE
ART MEETS PLAY WITH BLADE RECREATION
CUSTOMISED OR BESPOKE PLAYGROUND: WHICH IS BEST?
TRANSFORM OUTDOOR SPACES WITH GOSFORD QUARRIES SANDSTONE
VISION FOR VICTORIA PARK
BEHIND THE SCENES AT THE HILLS BARK BLOWER