US'S FIRST LEED STADIUM
07 Dec 2017
The Mercedes-Benz Stadium in Atlanta, USA, has received official certification as America's first LEED Platinum certified professional sports stadium for its range of sustainable design initiatives, including an urban garden.
Leadership in Energy and Environmental Design (LEED) is a rating system devised to evaluate the environmental performance of a building and encourage market transformation towards sustainable design. Home to the American NFL's Atlanta Falcons, HOK's Mercedes-Benz Stadium boasts the highest professional sports venue LEED score at 88 total points.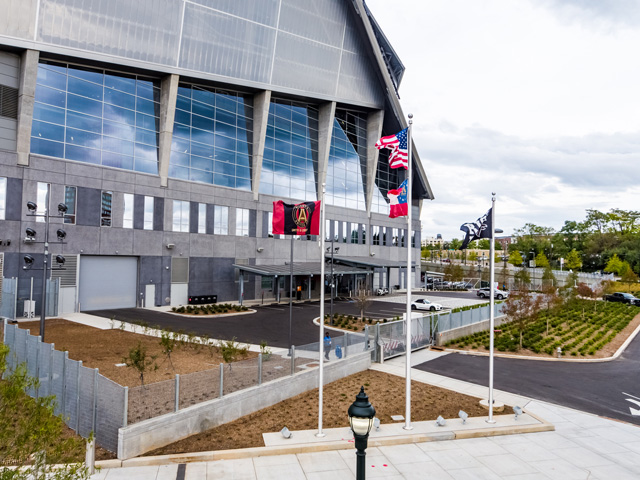 There is much more to learn from this stadium than just its unique retractable roof system. The two-million-square-foot (185,806m2) venue is an unprecedented model for sustainability and performance innovation. Its notable design solutions conserve water, lighting, and energy.
"We set a goal of achieving the highest LEED rating because it was the right thing to do for our city and the environment. With this achievement, we have a powerful new platform to showcase to the industry and to our fans that building sustainably and responsibly is possible for a venue of any type, size and scale," said Atlanta Falcons and Atlanta United owner and chairman, Arthur Blank.
The stadium uses 47 percent less water than baseline standards due to its highly advanced stormwater management system, water-efficient fixtures, and conservation infrastructure. Edible landscaping and an urban garden promote local food production and culinary industry jobs.
An adjacent 13-acre greenspace will afford not only game-day parking and tailgating but also non-game day community events.
The venue's 4000 solar PV panels generate enough renewable energy to power nine Atlanta Falcons games or 13 Atlanta United matches. Implementing all of these conservation strategies simultaneously will save substantial operating costs over the course of the stadium's lifetime.
Even users' arrival at the Mercedes-Benz Stadium considers energy conservation. Bike valets, EV charging stations for 48 electric cars, pedestrian-friendly walking paths, and 3 MARTA rail lines connect the community to this large gathering space.
The project team and Arthur Blank received the stadium's LEED Platinum plaque ceremoniously on the field before a game on Sunday 26 November.
SEARCH
SUBSCRIBE TO ENEWS
MORE NEWS
FROM THE GROUND UP
INDUSTRIAL TO SPORT
THE WINNING CHOICE
PLAYING ON THE GREEN
IN THE PINK
SPORTING UNITS STRIKE NEW GOALS