UPCYCLED TO PUBLIC ART
20 Apr 2016
For unique landscape features that offer a whimsical touch to any commercial or domestic outdoor space you can't go past the 'upcycled' designs of Rusty Sculptures by Russ Brebner.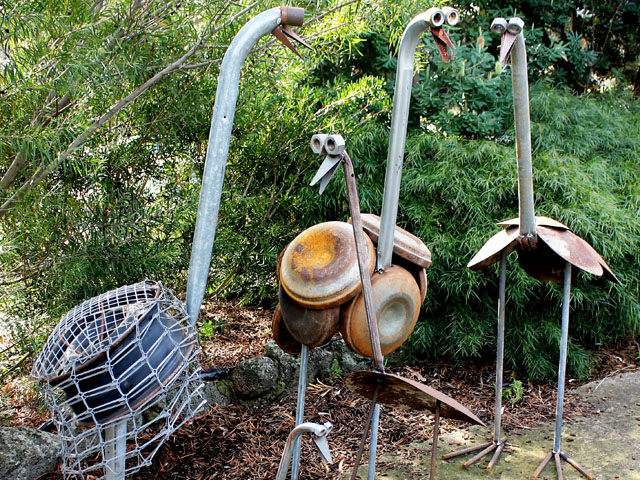 Established in 2005, Rusty Sculptures specialises in transforming recycled metals into quirky metal sculptures. Russ Brebner designs these unique creations by upcycling everyday items destined for the scrap heap. His creations vary from small cars made from sparkplugs to large commission pieces several metres high.
Standard designs are followed for most of the Rusty Sculptures range, however the ever changing availability of recycled materials ensures that each of Russ's creations is unique. And while almost anything from robots to animals features in Russ's work, it is his growing collection of unique bird sculptures which are proving to be the most popular.
Farm birds such as hens, roosters and chickens are customer favourites, and the more exotic birds like the peacocks, owls and road runners are always in demand. Australian birds are so unique and varied they're impossible to keep in one category. A Rusty Sculptures cockatoo is less destructive than a real one!
Australian bush favourites like emus, kookaburras and magpies go well in any urban or suburban garden, and an old mop bucket is perfect for the big round belly of a pelican. Russ has plans to continue growing his feathered flock this year and is currently working on several new designs, which will be moving into production in the months to come.
Rusty Sculptures is happy to do commission pieces to suit design requirements. Russ has also been commissioned by organisations such as The Melbourne Zoo and Frankston City Council to create unique pieces for public display, so keep your eye out for his work in and around Melbourne.
To view the full Rusty Sculptures range of unique creations visit www.russbrebner.com.au
SEARCH
SUBSCRIBE TO ENEWS
MORE NEWS
TANTALISING TERRAZZO
THE ADVANTAGES OF GRC PLANTERS
POTTED FRENCH FLAIR
MRTRAMPOLINE DELIVERS ON STRENGTH AND DURABILITY
LANDSCAPE ON THE ROCKS
AUTHENTIC LE CHÊNE VERT ANDUZE POTS